The Colombo trio—Ramya De Livera Perera, Ananda Dabare and Dushy Perera—have performed together since 1995, and have given many acclaimed concerts in the past, performing standard piano trio repertoire from the classical to the modern period. On March 17, Ananda and Dushy will collaborate with Eshantha Peiris on piano.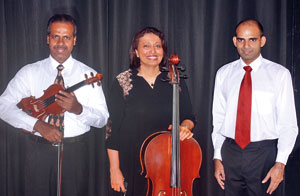 Happy collaboration: Ananda, Ramya and Eshantha
Ananda, Dushy and Eshantha need no introduction to Sri Lankan audiences. They have all distinguished themselves as musicians of the finest calibre, as soloists and ensemble players.
Their programme includes Brahms's piano trio in C minor and Anton Arensky's Piano Trio No.1 in D minor. Brahms's final piano trio is the capstone of the three chamber works composed at Lake Thun in 1886 and published in 1887.
The F-major cello sonata and the A-major violin sonata are the other two compositions Brahms worked on in Switzerland. The last, the piano trio in C minor, combines the best aspects of these two works. The cello sonata's passionate expression is melded to the modest proportions of the violin sonata, creating a tightly woven structure that wastes no notes. Well-loved by Brahms's friends, Clara Schumann and Elizabeth von Herzogenberg, the trio exemplifies the best elements of the composer's late style.
Anton Arensky is a lesser-known Russian composer, but his piano trio is undoubtedly a masterpiece and deservedly takes a place in the standard chamber music repertoire. Piano Trio No. 1 in D minor, Op.32 was dedicated to the memory of the legendary Russian cellist, Karl Davidoff, director of the Petersburg conservatory during Arensky's time there as a student. This dramatic trio is by turns passionate, lyrical, elegant, personal and thoroughly captivating.
In lighter vein, the trio will also perform short works by Rheinhold Gliere and Astor Piazzolla.
Box plan and tickets are available at the Lionel Wendt.