A perahera experience – some points to ponder
By Malo Turistas
This week we celebrated World Tourism Day (September 27). It is a day for countries like Sri Lanka, that are heavily reliant on tourism. As I toured around the country with American friends and relatives last month, I delightfully discovered that our shores still attract thousands of visitors from all over the world – even in times of financial hardship.
Whilst the Sri Lankan hospitality industry are masters of the 'warm welcome' and the 'friendly smile' one thing that we still fail abysmally on is the ability to sort out problems professionally. Confrontation and conflict resolution is often handled with apologetic and often ineffective subservience in our culture.
In Sri Lanka, it's all about status.
Take my recent visit to Kandy to see the Esala Perahera.
Held annually in Kandy this ancient festival dating back to the 3rd or 4th century BC pays homage to a Sacred Tooth Relic of Lord Buddha which is housed in the Sri Dalada Maligawa (Temple of the Tooth) in Kandy. It is a stunning spectacle of Kandyan dancers, devil masks, whips, fires, drums, and horns and of course, the legendary 50 plus beautifully adorned elephants who majestically proceed between the dancing troupes. It really is a sight to behold, and it was one that my brother now living in America was keen to show off to his young family on their first visit to the country.
Knowing that this is a national and international spectacle, we decided to book early. Unsure as to how the children all under the age of 10 would cope with standing in the crowds and heat for hours on end, we decided seated viewing was preferable. Although the local Pizza Hut had a seated area available, we decided to book rooms at the Queens Hotel which had seating on its own beautiful porticoed verandah.
For one night's stay we paid close to $2,000 for three very unimpressive rooms but we felt it was going to be worth it to watch the festival from this prestigious colonial building – one of the oldest hotels on the island – that had over 160 years of heritage as a former British Governor's residence and beloved haunt of King Charles's III's favourite uncle, Lord Mountbatten of Burma.
Travelling four hours that morning from Trincomalee to Kandy, by the time we arrived, the crowds (and elephants) were thronging into the town centre and jostling for key viewing positions on the procession route. Our lovely driver – a proud Kandyan himself – weaved in and out of the outlying streets trying to find quicker alternative routes to our hotel. With each new attempt we would be stopped by the khaki uniform of a policeman announcing that the road was closed. Some looked at us as though we were mad. Did we not know what day it was? It was the Perahera!! Of course, the roads would be closed.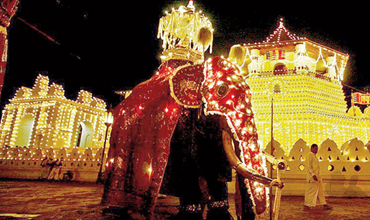 We explained that we were tourists and that we had made the long trip all the way from America, to see the famous Perahera. We were staying at the Queens Hotel to view it. Could we not as weary travellers coming for the first time to the city, be allowed passage to our hotel?
We were given a resounding no. The fact that we were in a minibus, with white skinned, blonde, blue-eyed Caucasian people, waving foreign passports and hotel booking confirmations made no difference whatsoever.
We desperately called the hotel to get someone there to speak to the policeman, but no one answered. Eight, nine, ten times we rang and there was no answer. The phone was not engaged, it was simply not responded to. Perhaps they too had abandoned their posts to secure places for the procession. We frantically Googled the hotel's website to see if it had instructions on how to gain access to the hotel on perahera days. There was nothing.
In other countries where festivals like this are wonderful tourist attractions and great earners for the cities, hotels ensure their communications are up to date, with preparatory instructions and directions so that guests' expectations can be properly managed. Guests are guided as to where to go and what to do on festival days.
And crowd control staff like the Police and Festival Stewards are trained to deal with lost visitors needing direction.
Local citizens at festivals like the Edinburgh Festival are positively proud to show their city off to visitors.
Everyone from cab drivers and shopkeepers to just ordinary residents become helpful guides and advisors on festival days. They are friendly, polite and welcoming to strangers, who on average will each spend $7 in their city for every $1 of festival costs. That's 700% income generation. Countries that put on festivals know this and do everything they can to make their tourists feel loved and wanted because they know it is of significant financial benefit to do so.
Police insisted that we would have to leave our vehicle and walk to the Queens. This would not have been a problem but for the fact that my brother's family had luggage. And they were American which meant their luggage, like everything else emanating from that country, was immense.
Each bag had those twirly wheels that spun around madly in all directions, as though they had a life of their own. Hauling one of these cases up the hilly Kandy's streets would have felt as effortless as pulling a helium balloon behind you. But when you have 16 pieces of luggage consisting of suitcases, carry-on bags, hold-alls, rucksacks, computer bags, and camera cases to decant from a van and lug up steep roads, it's quite a different matter.
Those steep roads were also jam-packed with thousands of festival-goers. We decided that we would each take one bag, one child and set out on foot to get to the hotel.
We walked uphill keeping the beautiful Kandy Lake on our right and as we rounded the corner, we could see our hotel glistening white in the sunshine ahead of us. We were begrudgingly ushered through a police security check and just when we thought we had arrived another set of officiously rude Festival Wardens told us the way ahead was now closed. Again we repeated that we were only trying to get to our hotel but they shooed us away.
Finally, I asked a policewoman how we could get through the hundreds of people sitting on the roads and pavements waiting for the festival to start. She said nothing could be done. By now other tourists were also congregating around us with the same issue – French, Spanish, Germans and Italian families all as frustrated as we were. At this point I shouted in my best broken Sinhala to the police crews.
My scolding seemed to do the trick, the policewoman allowed us to go through. After carefully forming what looked like a human chain of the United Nations, and politely apologizing to seated individuals and repeatedly explaining the situation to the people we stepped over, a path through was made and the lovely ordinary citizens of Kandy very kindly gave us safe passage through to the barriers. When we finally squashed ourselves through the barricades, we were once again met by an extremely aggressive security guard who tried to force us back, but this time, all five foreign families held their ground and insisted they be allowed to cross the street to check-in to our hotel.
When we finally arrived at the Queens Hotel reception, we were met by two very pretty but inept receptionists and a young male. We explained our ordeal when the young man said, "Well, you should have called us. We have a car that can drive through the cordons and collect you and your luggage."
When we recounted how we had called the front desk numerous times without answer, they simply stared blankly and insisted they were very busy.
It was only later that we found out that the President of Sri Lanka, was also attending the perahera and was staying in the hotel. I felt a sudden pang of compassion for the staff of the hotel, having dealt with my fair share of VVIPs in my time. I know what a logistical and security nightmare it can be, and all usually executed at very very short notice.
But my foreign guests and our new European friends were not so sympathetic.
"Just because they have a VVIP staying does not mean they have to treat their other guests (paying guests no less,) as though we were second-class citizens!"
"If this festival has been going on since the 4th century, why have they still not perfected the art of customer service in all that time?!"
But it does raise an interesting and rather sad point. Other than the Kandy Perahera, what else does the city of Kandy tell us of the life and times of our ancestors who inhabited this kingdom? Vestiges of our British colonizers are scattered throughout the city – colonial buildings, walkways and even tree lines of pine that were brought over from Britain to remind the British of their home country.
But the story of the kings and queens who built this city and created lineages that inhabited it from the 15th century, creating ways of life that underpin the culture of every Sri Lankan to this very day are nowhere to be seen. Why do we not tell the story of what it was to live as a Sri Lankan citizen in the complex and highly advanced societal structures that our ancient cities were?
Countries with histories far younger than ours proudly boast of their yesteryear. England is well known for its historical story telling. Whether it's watching Shakespeare plays performed in the round of the Globe Theatre, or being held in the docks at the London Dungeons where actors mete out tortuous sentences to tourists brave enough to act as peasants from the 1500's charged with stealing a potato.
Even if it's just joining one of the many curated city walks either in a group or by downloading a phone app and walking the streets on your own, with the thespian tones of Sir Ian Mckellan waxing lyrically about the history of London's theatre land, England values its history enough to turn into a highly sought after tourist attraction. Heritage Tourism as it is called in the UK generates £17.5bn a year from overseas and UK visitors.
Even the US with its relatively recent history strives to take whatever tiny heritage it has and make it rain dollars. From the witch trials in the tiny town of Salem, in Massachusetts which is a $99m industry to the pomp and prestige of attractions in Washington DC which yields $5.24bn, the Americans grasp any and every historical story they have and weave them into fascinating and lucrative attractions to share with tourists. From the tasty Crawfish Gumbo and Blues music of New Orleans to the Californian Gold Rush and the Wild Wild West, and even the dark history of the slave trade on their plantations, America knows the power of storytelling.
But back in Kandy, all we have is poorly maintained colonial buildings and the Perahera which according to an article in the UK press in 2017, generated LKR 200bn (£1bn) partly through private funding and also with assistance from our old friends, the Chinese. £1bn is a lot of money. None of it however seems to have been reinvested into the infrastructure that could help Kandy attract even more visitors to this historical site. There has certainly been no investment into the training of hotel or public service staff on how to deal with visitors on Perahera days.
Comments
Still No Comments Posted.