Nadishka wins Best Children's Book at State Lit Awards
Ayash Grows a Family Tree by Nadishka Aloysius has won the award for the Best Children's Book at the recently concluded State Literary Awards 2023. This is the fifth nomination for the author whose publication That Easter Sunday won previously in 2021.
The story is about a five-year-old boy named Ayash who has a small problem. How does he grow a family tree? Help arrives in the form of his grandmother, Paatti, who, armed with a box of old photographs, gently guides the eager little boy while teaching him about his roots. The humorous tale encourages young listeners and adults to explore who they are.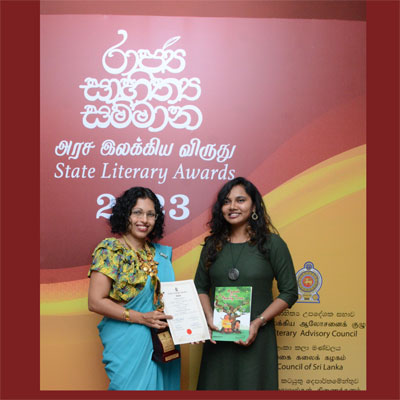 Nadishka Aloysius is a teacher, actor, and award-winning author who strives to showcase Sri Lankan life in her work. She writes for both children and adults, and conducts creative writing workshops and school visits to celebrate Sri Lankan culture and wildlife.
The book is illustrated and designed by Dilmi Amarasinghe and includes activities for use at school or at home. Priced Rs. 1200, it is available at bookshops and gift stores islandwide.
Comments
Still No Comments Posted.