UN agencies and US help to build Sri Lanka's food and agri resilience
By Kapila Bandara
Efforts by the United States, and the UN food and agriculture agencies in assisting Sri Lanka to overcome the food insecurity emergency and malnutrition, while building resilience for the future, came into focus once again last week during a high level visit by a Biden Administration stalwart with a diverse background.
The United States Permanent Representative to the UN Agencies in Rome, Ambassador Cindy McCain, who is also the widow of the late Republican Senator John McCain, went to the North Western and Central Provinces accompanied by the US Ambassador to Sri Lanka, Ms Julie Chung.
She visited several projects of the Food and Agriculture Organization of the United Nations (FAO), the United Nations World Food Programme (WFP), and the International Fund for Agricultural Development (IFAD).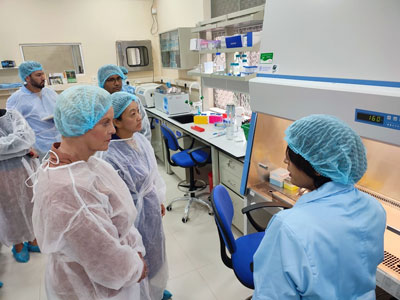 The United States Permanent Representative to the UN Agencies in Rome, Ambassador Ms Cindy McCain, and the United States Ambassador, Ms Julie Chung visit the biosafety lab set up by the UN Food and Agriculture Organization at the Agricultural Biotechnology Centre of the University of Peradeniya.
A highlight of her two-day visit was the biosafety lab set up by FAO at the Agricultural Biotechnology Centre of the University of Peradeniya. The lab will lay the foundation for long-term positive impacts on Sri Lanka's food and agriculture.
Ms McCain said the lab, "will determine the kinds of crops that will grow well'', in Sri Lanka, "and the kinds of crops that won't grow well''. Referring to its long-term research role, she said it "will help feed the country''.
This is one of three labs upgraded with funds from the Global Environment Facility. Two labs at the Industrial Technology Institute, and the National Plant Quarantine Services have already been upgraded to meet international standards for regulatory testing of genetically modified organisms in Sri Lanka.
Among the lab's research work on crops is diagnosing resistance to anthracnose in chili (a fungal disease), yellow vein virus in mung beans, and bruchid beetles in cowpea.
Sri Lanka's politicians and bureaucrats have been extremely lethargic in developing biotechnology regulatory policies. Successive ruling regimes have not yet been able to develop a legal framework. The National Biosafety Act has taken years for review.
Ms McCain went to see a school garden supported by FAO in Kuliyapitiya. It is one of 100 such gardens encouraging home gardening and aimed at addressing food security of school children.
The FAO has given seed packs, agriculture tools, and information to the schools in May this year along with training on nutrition-based gardening for teachers and students to improve their technical capacities in starting up and maintaining a school garden, a statement said. These gardens provide food security to an estimated 20,000 to 30,000 vulnerable households.
Ms McCain was joined by FAO Representative to Sri Lanka and the Maldives, Mr Vimlendra Sharan. The FAO will provide Triple Super Phosphate fertiliser for all paddy farmers along with 50 kilo packs of urea to 186,000 smallholder farmers in the poorest districts of the dry and intermediate zones to help improve production of paddy.
Ms McCain also met with smallholder tea and rubber farmers. IFAD Country Director for the Maldives and Sri Lanka Sherina Tabassum was on hand. IFAD is supporting the Smallholder Tea and Rubber Revitalization project with US$25.76 million financing since 2016 to help improve production and build resilience against future shocks such as climate change.
This aims to support 32,000 smallholder households of 144,000 Sri Lankans, and covers Badulla, Galle, Kandy, Matara and Nuwara Eliya for tea cultivation; Ampara and Moneragala for rubber cultivation; and Ratnapura for tea and rubber processing. The project had problems related to implementation and performance, but was restructured in 2019. Still, it was determined that it will "not be able to deliver on its targets for tea replanting and rural credit by the current completion date''. The completion date has been extended to June 30, 2023.
The group, together with WFP Representative and Country Director in Sri Lanka Abdur Rahim Siddiqui, heard about economic calamity-related experiences of a group from Kurunegala district, one of the poorest areas.
Comments
Still No Comments Posted.