USAID hands over urea for 193,000 farmers, phosphate fertiliser next
By Kapila Bandara
More than 193,000 Sri Lankan farmers in eight districts who are cultivating up to a hectare (2.5 acres or less) will be given urea fertiliser purchased by the UN's Food and Agriculture Organization with funding from the U.S. Agency for International Development (USAID).
The United States Ambassador to Sri Lanka, Julie Chung on Monday handed over 9,300 metric tons of urea at the Port of Colombo.
Following this initial shipment, the United States is working to provide Triple superphosphate (TSP), next year, a spokesman for the United States Embassy told the Sunday Times. In all, the urea, now provided, and TSP, to be provided, will reach nearly a million farmers in 25 districts.
United Nations agencies have estimated that Sri Lanka needs about 150,000 MT of urea for the Maha paddy cultivation. The World Bank itself allocated US$110 million (Rs 40.42 billion) of emergency funds for 133,500 MT of urea, to help buy the bulk of Sri Lanka's needs.
The World Bank is keeping its eyes on the ground, tracking distribution of fertiliser from the port to Agrarian Service Centres (Govijana Seva) and on to farmers by using a 'Geo-Enabled Monitoring System'. The World Bank has used this in its projects elsewhere. In Sri Lanka, where political and official corruption chokes every sphere, the implications are clear.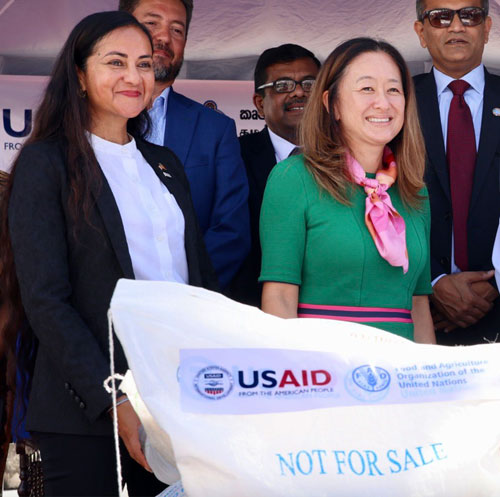 United States Ambassador to Sri Lanka, Julie Chung, right, hands over 9,300 metric tons of urea at the Port of Colombo. USAID's Deputy Assistant Administrator of the Asia Bureau, Änjali Kaur is at left.
Just as Sri Lanka's politically-manufactured fertiliser crisis triggered the 'vistas of hunger' alarm, UN agencies and the United States were the first to respond with an emergency plan, amid Government paralysis from the bankruptcy declared on April 12 by the Central Bank of Sri Lanka, which had by then, drained the coffers though reckless policies endorsed by an incompetent monetary board.
This week's urea shipment is being delivered after USAID Administrator Samantha Power, who has long admired Sri Lanka, visited in September, met with some farmers, and pledged an extra US$40m (Rs 14.6b) in development assistance for fertiliser and other essential agricultural inputs. She announced an additional US$20m to provide humanitarian assistance. Ms Power noted then that it was "heartbreaking'' to see Sri Lankans "confronting hardship the likes of which few have seen before''.
The former US Ambassador to the UN and President Barack Obama's Human Rights Adviser, also said she had stressed to President Ranil Wickremesinghe in her meeting, "that political reforms and political accountability must go hand in hand with the economic reforms and economic accountability''. Ms Power added: "Sri Lanka's vibrant civil society must have the space that they need, to raise their voices and hold the government accountable.''
The United States, through USAID, has provided US$46m (Rs 16.9b) in funding for fertiliser and for cash assistance to small-holder farmers who have suffered due to low yields over the past two agricultural seasons and due to the economic crisis, the US Embassy said. The US Embassy emphasised that USAID and its partners have mechanisms to monitor and evaluate their work, ensuring that assistance reaches its intended recipients.
About 53,000 farmers are estimated to be in need of emergency cash assistance.
The World Bank also has so far disbursed US$41.4m. A first consignment of 13,000 MT of bulk urea was delivered on October 25 and a second shipment of 22,000 MT of bulk urea arrived in Colombo on November 25. And 73,000 MT is expected this month, World Bank records show.
The urea from USAID will be distributed to eight districts — Jaffna, Mullaitivu, Mannar, Vavuniya, Anuradhapura, Trincomalee, Batticaloa, and Monaragala districts.
Triple superphosphate (chemical formula Ca(H₂PO₄)₂ .H₂O) contains more than 40% phosphorus. Urea has nitrogen, while muriate of potash (MOP) has potassium. Farmers need all three types.
The embassy spokesman said farmers who will get urea are those cultivating up to one hectare (2.5 acres or less). The funding that covers this initiative will support farmers next year as well.
Ambassador Chung, who was on hand to receive the urea at the port, said in a statement: "This fertilizer, provided by the American people, will help Sri Lankan farmers to keep countless Sri Lankan families fed in the months ahead.'' USAID's Deputy Assistant Administrator of the Asia Bureau, Änjali Kaur, was also at the port, along with FAO Representative for Sri Lanka and the Maldives, Vimlendra Sharan, and USAID Mission Director for Sri Lanka and Maldives, Gabriel Grau.
Ms Chung noted she is aware that "fertiliser alone will not meet all of Sri Lanka's needs, but this assistance is just one aspect of the United States' much greater investment in and support for the people and government of Sri Lanka at this challenging time. In total, we've announced over US$240 million (Rs 88.2 billion) in new assistance and additional loans for small businesses over the last year – and we'll keep at it.'' She said the assistance, "demonstrates America's goodwill and true commitment to the people of Sri Lanka''. The US$240m assistance has been effective since June.
Ms Kaur said USAID is, "delivering on a commitment made to reach small-holder paddy farmers with much-needed fertiliser'' and that it is "part of our support to Sri Lankans during this complex emergency''.
The urea was handed over to the Ministry of Agriculture.
Comments
Still No Comments Posted.