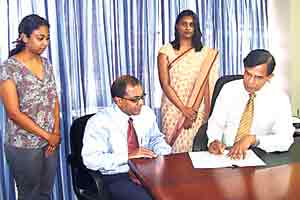 As the country's premier healthcare education campus the International Institute of Health Sciences (IIHS), has continued the march towards providing quality healthcare education to facilitate employment opportunities for Sri Lankan healthcare professionals here and overseas.
In yet another move to solidify its attempt to make quality healthcare education within the students' reach IIHS has joined forces with TAFESL, an organization established to empower Sri Lankans with the right skills and competencies to successfully enter international job markets.
The Managing Director of IIHS Dr.Kithsiri Edirisinghe pointed out the alliance was formed with the intention of providing training and other associated facilities to prospective candidates in the healthcare field and other demand driven disciplines for those who wish to obtain the TAFE qualification under the Australian Qualification Framework (AQF).The system also facilitates pathways to pursue higher education opportunities in Australia.
TAFESL (Pvt) Ltd is an organization established to operate within the Public- Private - Partnership (PPP) framework under the patronage of the Ministry of Vocational and Technical Training in Sri Lanka. The organization's mission is to effectively use Public - Private - Partnerships to enhance the relevance, effectiveness, efficiency, equity and sustainability of training in order to address the skills requirements of individuals, enterprises, and the community.
CEO TAFESL and the Advisor to the Minister of Vocational and Technical Training, Eng. Lionel Pinto says TAFESL was established with a view to formulate guidelines and policies for Vocational Training Institutes that directly fall under the purview of the Ministry and other organizations registered with TVEC to fall in line with the Australian Qualification Framework (AQF) through TAFE System in Australia.
Meanwhile Dr. Edirisinghe elaborated "With the signing of this agreement TAFESL has recognized IIHS as the sole representative for training healthcare professionals, which is a proud moment for the institute. Through this agreement IIHS hopes to provide internationally recognized TAFE qualifications at an affordable price, four times lesser than what one would have to pay for courses followed overseas. Apart from the cost advantage the students also have the opportunity to migrate abroad" He also emphasized the partnership would broaden the institute's prospects in more ways than one as it offers IIHS the opportunity of working in tandem with several other vocational training institutions that have partnered with TAFESL.
In addition, Dr.Edirisinghe expressed his gratitude to Hon. Piyasena Gamage Minister of Vocational and Technical Training for efforts taken to improve the standards of training in the country. IIHS which has now partnered with TAFESL was set up in January 2003 as a training centre for healthcare professionals and conducts training courses in the areas of Nursing, Paramedical Sciences and Health Management. This state- of- the- art health campus aims to infuse innovation for the training of healthcare professionals in order to mould caring and confident healthcare professionals in line with international standards.
IIHS has commenced programmes for healthcare assistants, skin care and IELTS and will shortly begin the programmes on subjects relating to nursing, pharmacy and paramedics alongside courses on medical and hospital administration. (Shabnam Farook)