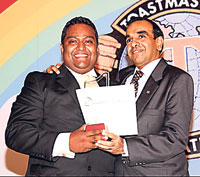 Dayan D.L Fernando, a Management Consultant and a Trainer who is the past President of the Serendib Toastmasters' club and the present Charter President of the CIM Toastmasters' club made his mark once again when he emerged winner of the Toastmasters International (TMI) District 82 Table Topics speech contest held recently at the Mount Lavinia Hotel.
The win was very significant since seven of the nine finalists were from India. The finalist who battled it out with witty impromptu speeches had to first win the club, then the area and finally the division competitions before coming onto the finals of the District. District 82 consists of 9 Divisions with over 150 clubs from India and Sri Lanka. This was the first year when Sri Lanka and India had gained its full District status from TMI. The main hall of the Mount Lavinia Hotel was packed to capacity as there were over 200 delegates from India alone while the rest of the hall was filled with Sri Lankan Toastmasters and well wishers. It was a wonderful sight to see all the Indians and Sri Lankans giving a standing ovation for Dayan as his name was announced as the winner. Dayan was the clear winner as he spoke on the topic given to them "Promise me anything, but give me Money" It was interesting to see how Dayan twisted the topic and asked the audience to promise him many things but not Money.
Dayan who joined the Toastmasters movement just 4 years ago has already made his mark in the Communication and Leadership fields. He has been awarded the Competent Communicator (CC), Advanced Communicator (ACB) and the Advanced Leader (AL) by Toastmasters International (TMI).
In 2008 he was the winner of the Humorous Speech competition for Division A. Dayan who is well known for his amazing baritone voice has made his presence felt not only in District 82 but at the TMI convention in the United States as well. His rendition of Danno Budunge at the TMI convention in Arizona in 2007 made him a star.
Dayan says "Toastmasters has thought me many things, not only communication and leadership skills, but how to take victory and defeat and how to interact with many cultures. But mostly it has given me great friends from all over the world. Today I can go to many countries and find a friend, because of Toastmasters"
He goes on to say "I think we all have some great talent hidden inside. It's your attitude that will bring it out. People will try to put you down at times. But each time you get up and run, you run faster and you are steadier. Just believe in yourself. If you haven't found out your talent, just join the Toastmasters movement. It will help you find it."
Dayan who is a sought after motivational speaker and trainer holds an MBA, and is a fully qualified Chartered Marketer and an HR specialist. He is a former Head Prefect and the Victoria Gold Medalist of S.Thomas' College, Mt. Lavinia were he excelled in sports, drama and singing. Before getting into the field of consulting and training he was working as the General Manager of Confifi Hotel Supplies Ltd.