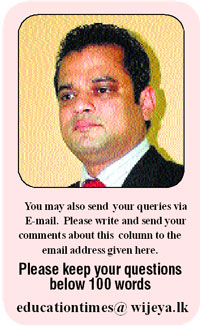 Q: Dear Sir, I completed my A/Ls last year. In addition, subsequently I did AAT, because I have an objective of being a management accountant in the future. Currently I am on the verge of choosing a professional qualification, to help me reach my objective.
But I am stuck in choosing the suitable qualification to reach my objective. I have come across two qualifications, but unfortunately, I cannot distinguish the differences of these two courses which are:
The areas in which I have a problem are:
1. From an employer's point of view, do they both have the same recognition?
2. Of the above which gives me more exemptions?
3. Suppose I choose c.m.a, does it add the same value to my CV, compared to a person with c.i.m.a?
4. Suppose I start off with CMA and after I complete it if I wish to do CIMA what will be my start up point?.
Thank you,
Ilham (Via EmailZ)
A: DearIlham, I am hoping you are interested in improving and consolidating your knowledge in Management Accounting and to further top it with an international certification such as CMA.
In my research I came across the Institute of Management Accountants (providing CMA certificate) and the Chartered Institute of Management Accountants (providing CIMA certificate). From what I understood, CMA is more US based while CIMA is affiliated with UK and ACCA. Apart from the differences of continents and legal frameworks used in the US and UK the content and objectives of the two appear to be similar.
If you are planning a career in the accounting field in the US, I would highly recommend CMA. CMA prepares you for accounting in industry, preparing reports and being a strategic partner within the organization. CMA is based on being a manager who helps the organization reach its goals.
If you are planning to work in the US then the CIMA designation would be useless. CMA is recognized in other countries besides US. China has a CMA programme now and it is continuing to expand.
Accordingly the qualification you choose will also depend on the geographical territory you report to.
CIMA into CMA
CIMA members who qualify for membership with CMA will have full rights to use the CMA designation.
To be eligible for membership in CMA , members must apply for CMA in the province or territory where they live or work
CMA into CIMA
Applicants must demonstrate accreditation or certification requirements equivalent to CMA accreditation requirement, as well as satisfy admission requirements set out by the provincial or territorial society in which they live or work.
CMA members will be eligible for Associate Membership in CIMA and enjoy the same benefits as CIMA members provided they meet the accreditation and practical experience requirements that have been established by CIMA.
But before all this get your vision board in place and start with doing your own research first.
Q: Dear sir, I'm an 18 year old student, hoping to do my A\L exam in 2010. After that I am planning to study Actuarial Science. Could you please tell me the institutions in our country that offer Actuarial Science courses and degrees? Also I want to know are there good career opportunities for Actuaries in Sri Lanka?
Jithmal Mendis
Via Email
A: Dear Jithmal The post graduate diploma in Actuarial Science and Diploma in Insurance was launched on November 26 2008.
Postgraduate diploma in Actuarial Science and diploma in Insurance is conducted by the Uva Wellassa University together with the National Institute of Business Management (NIBM).
Actuaries are professionals involved in assessment, evaluation and management of the future financial risks and they perform as problem solvers, business analysts, consultants and financial risk assessors all rolled into one. Actuaries manage financial risk and make financial sense of the future for their clients. Actuarial skills are valuable for any business managing long term financial projects both in the public and private sectors.
It has got applications in the field of life insurance, general insurance, health insurance, reinsurance, calculation of gratuity, pension, leave encashment, assets valuation, pricing of securities and derivatives, risk management, risk valuation and so on.
The links for more information is mentioned below. http://www.cms.uwu.ac.lk/
http://www.ancedu.com/html/ANCprograms/2plus2.htm
Q:. Dear Mr. Saleem, I have completed my LLB with 2nd Class Honours (upper division). Also I have completed my Attorney's finals. I am confused on whether to do the LLM or an MBA
I wish to become a highly paid and eminent employee so what should I do? What is your suggestion?
BHASHI HETTIARACHCHI
Via Email
A: Dear Bhashi
I have recommended a four step process for you , however as I always mention to many students it's important to identify, exemplify and then amplify your core qualification , for example it is important for you to be really good at what you do prior to adding on an MBA.
Self Analysis Gather information about yourself
Interests
Values
Roles

Skills/Aptitudes
Preferred Environments
Developmental Needs

Your realities Options Search
Explore the occupations in which you are interested

Research the industries in which you would like to work ,for example consumer law
Research the Labour Market for opportunities, for example locally and internationally match During this phase of the process, you will:
Identify possible occupations , for example research, patents, HRM
Evaluate these occupations
Explore alternatives
Choose both a short term and a long term option
Action Orientation
You will develop the steps you need to take to reach your goal, for example:
Investigating sources of additional training and education, if needed , for example you may be great in Law but weak in people management
Developing a job search strategy
Writing your resume

Gathering company information
Composing cover letters
Preparing for job interviews
All the best, stay focused
Leading Marketer and reputed lecturer M. Failan Saleem answers your queries on career and education guidance every week. All you have to do is write your question to the point and briefly on the coupon below and mail it to:
Career Guru,
Education Times,
Wijeya Newspapers Ltd.
No. 48, Park Street, Colombo 2.
to reach us on or before every Thursday.
Please note to attach a coupon with every question. If a question has been asked earlier please indicate date of publication with the new query.