On the 22nd of April 2010 Sanath Jayasuriya the legendary Sri Lankan cricketer commenced a different kind of an innings, not involving the traditional bat and ball which he is quite accustomed to but with people and politics!
The Matara mauler as he is called is sure to enjoy this phase of his life and career considering his immense popularity and love he has for people which was confirmed by his standing in the recently concluded General Election. It was no surprise when Jayasuriya took to politics! Despite him not showing keenness to take that path initially, to me it was only a matter of time as far as Jayasuriya entering the public office. And I am a strong believer that it is a step in the right direction provided he doesn't muddy himself with the controversies and the other ugly side of politics. If his intention is purely to serve the people of the area which I am sure is the real motto of his, then Jayasuriya the politician too is bound to be unstoppable very much like the batsman he is.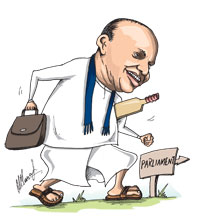 To begin with, it is a common view that most people enter politics to make money for themselves and fame as unfortunately most politicians are tainted by that accusation. It is a widely accepted notion that politics is something people should disassociate themselves from. But for Jayasuriya wealth and fame could never be an issue as he has enough and more of it earned through cricket and besides that I am sure he will be able to draw from his vast contacts here and internationally to uplift and assist the people of his constituency which is definitely going to be his main task. As such there will be no question about money making when it comes to Jayasuriya and knowing him to be a strict disciplinarian, I wonder whether such situations would ever occur when he is around as he is known to be a transparent personality and has always helped many a needy person going out of his way. Hence as politics is a lot to do with assisting needy people at least in the rural areas, it will only be an extension to what Jayasuriya does currently besides his cricket.
However despite all these great deeds and what the future may hold for Jayasuriya the Politician the interesting question that is bound to confront him is how would he balance his politics and cricket? As we know, to the vast and crazy audience of this country he is still a cricketer first and the rest thereafter! Though it is only a matter of time before Jayasuriya becomes a key player in the political game whilst he is one of the king pins of cricket at present! No doubt it is tough and a challenge for Sanath Jayasuriya to balance these two roles as long as he remains in the game!
And talking about remaining in the game, Jayasuriya may have to forget his politics at least for the next few weeks as he embarks on yet another important assignment in the form of the T 20 world cup in the West Indies! Being a crucial player in the Sri Lankan line up, the whole country will look to the master blaster to bat in his typical aggressive fashion when he takes guard yet again for his country. Though it is very likely that Jayasuriya may not be keen to figure in yet another T 20 world cup, and may opt to consider his future in cricket on a tour by tour basis, one gets the feeling that he deserves a go at least up to the Cricket World cup of 2011, provided he does his bit in the side, with an opportunity to bow out on his home turf with the possibility of being a member of a world cup winning side!
Capped the most valuable player in 1996 thanks to some match winning performances with both bat and ball, Jayasuriya though touching forty should be capable of performing at the highest level as he has maintained his level of fitness and is still a brilliant operator on the field defying his age and sometimes being able to put some of the younger players to the shade.
I do agree with critics that he hasn't been in the best of form with the bat in the recent past, but now as he has received the vote of confidence from the selectors and his captain, he should be backed to the maximum to go out there and give his best and with it for the team and the country to prosper. There is absolutely no point trading accusations or questioning selection policies as this is something of the past. And it is important and imperative that we looked to the future, and the immediate future is the T 20 world cup. Don't forget that form is temporary but class is eternal, and Jayasuriya has a class and what we call real class!
Sri Lanka who has never won cricketing glory since 1996, though it was a case of " so close but yet so far" on a few occasions including the last year's T 20 world cup need to clinch a major plum, which has escaped their grasp for some time.
And this year in the West Indies, the Sri Lankans have a great chance to achieve it. With Sanath Jayasuriya hungry for success and determined to scale yet another cricketing Everest, and backed by an excellent team of world class cricketers in the squad, what better prospect can the Lankans hope for? Let's wish that the great Jayasuriya will come out with a Caribbean special, a performance that is all too familiar to him and his legions of fans, and with it the T 20 World Cup for Sri Lanka! A fairy tale ending no doubt something we feel is very real too.
Roshan Abeysinghe is a leading cricket promoter and an international cricket commentator