With road-blocks, diverting and re-diverting and inadequate road infrastructure could be a great hindrance to the country's development process. A simple hypothetical assumption would prove this point.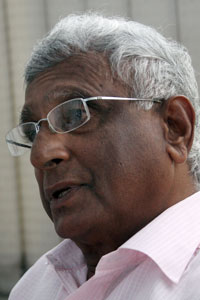 Surath Wickramasinghe
For example a person travelling from (say) Horton Place to Kollupitiya -- if the roads are clear - would take only a matter of three to five minutes. But today it would take 20 to 30 minutes and this phenomenon would result in enormous loss to the nation. Revamping the highway infrastructure with proper forward planning is the major forerunner for accelerated development according to Surath Wickramasinghe, President, Chamber of Construction Industry, Sri Lanka – a Chartered Architect and an experienced Chartered Urban Planner.
He says there is a huge potential for the development of Sri Lanka in the different economic sectors, but the need is to determine mechanism on how to "fast-track" development to avoid remaining where 'we are now even by 2012'.
In an interview with the Business Times, Mr Wickramasinghe said that due to the traffic congestion on all major roads linking major cities the communicating time, and the resulting cost overruns are enormous. The damage to the environment in many ways due to design requirements and the lack of coordination and planning of the intersections to obtain optimum economic benefits are alarming. Issues relating to the Colombo – Katunayake Expressway are similar. "I hope these problems would be avoided in the proposed Colombo-Kandy and the Outer Circular Expressways," he noted.
To overcome these constraints the veteran urban planner suggests setting up an Expressway Authority independent of the Road Development Authority (RDA) and to staff this Authority with experienced professionals from overseas if necessary which could be operated as a public private partnership.
He says the Railway at present is unable to cope with the demand since the railway tracks and the rolling stock have not increased in numbers to meet the demand. The speed of travel compared to other countries is totally inadequate, Mr Wickramasinghe points out.
He indicated that in 2011 Sri Lanka would witness an immediate contribution to the construction sector by way of urban regeneration. Already the city of Colombo is being revamped by physical improvements to its main roads and other infrastructure. Even in terms of flood protection, action is being taken to dredge and maintain the canals while additionally promoting water borne transportation in them. The significance of resettling 67,000 families now living in underserved settlements is also to begin in 2011.
Mr Wickramasinghe said that the inflow of foreign direct investment in the construction of the globally reputed Seven Star hotel – Shangri-La is a forerunner for other star-class branded hotels. The economy of the Colombo city would further enhance with another mega construction project to be launched this year by a leading local blue chip company.
Yet the local construction industry continues to agitate about their involvement (or non involvement) in the government's major construction projects which are customarily entrusted to foreign contractors. Mr Wickramasinghe said that they are now fed up of agitating, but suggested that they be allowed to float collaborations and joint ventures to undertake these major project at a level playing field.
He said that transparency in government activities is also essential and this will allow all those interested parties to compete, pointing out specially to the awarding of the land of old CCC property at Slave Island.
He said that development in Colombo takes place on a project by project basis rather than as a value chain of the construction sector based on a comprehensive urban development and indicated that this needs government's immediate attention.
He said that bureaucracy is still playing a negative role and indicated that they are held back in commencing a construction project of a 44-storey building due to the lackadaisical attitude of the bureaucracy.
The veteran urban planner noted that in order to make the city of Colombo competitive with countries like Singapore they require to provide within a radius of 4 to 5 km of the city centre of Colombo a world class integrated state of the art infrastructure to attract leading investors/developers to the construction sector.
"This would trigger foreign and local businesses and all other services to flourish and develop the city to promote global business.
This concept has to be supported by a Financial and Business Hub, entertainment/shopping and dining, culture / arts / exhibitions and festivals, knowledge City with multimedia technology, greenery / open spaces / play grounds and modern/smart housing," he added.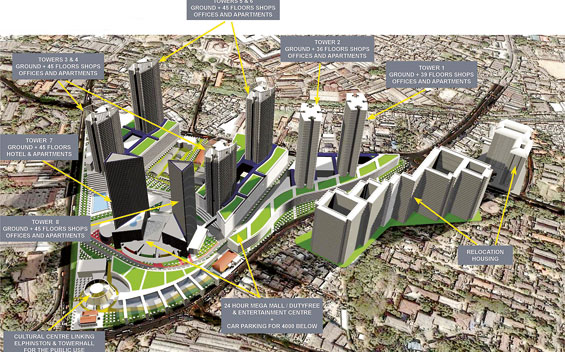 Image given by Surath Wickramasinghe of a typical development after relocating underserved communities