World renowned business and branding strategist, corporate and marketing advisor, thought-leader and speaker, Martin Roll is due to visit Sri Lanka under the auspices of The Management Club (TMC) to conduct two seminars on strategic brand building.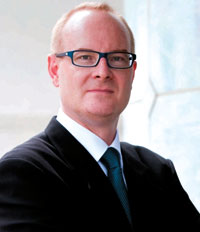 Martin Roll
The seminars, aimed at Company Directors, CEOs and top Marketers, will bring forth Roll's immeasurable knowledge and experience in setting out the role of corporate boards and essential strategies for developing strong Sri Lankan brands that can go global, TMC officials told the Business Times.
Currently heading his own global consultancy business in Singapore, Mr Roll brings with him valuable visions on value creation through brand equity, driven by tremendous global experience and insights. "Having facilitated business leaders and organizations to think bold on future strategies by building and managing successful businesses through iconic brands, Roll helps boardrooms to enhance shareholder value and create sustainable competitive advantage," one official explained.
Mr Roll has advised corporate boards of the world's largest companies including many corporations in Asia, accumulating more than 20 years of management experience. To be held at the Cinnamon Grand Hotel on March 22, the CEO's Forum on "Business & Brand Leadership: A New Paradigm for CEO Success" will examine the fast changing face of business in Asia and the benefits of brands and innovation in the newly emerging Asian business landscape. It will discuss ways of sustaining shareholder value and delivering attractive returns to shareholders through effective branding and adopting a leadership style and mindset of today's dynamic Asian CEOs to drive a shared vision throughout the organization.
The morning seminar, aimed at marketers and senior managers with brand building responsibilities will focus on "10 steps to build strong global brands: A New Approach" and will explore the importance of an unique brand promise, achieving outstanding brand delivery and how the entire company can ensure that its multiple and cross-functional actions are channeled towards this goal.
The seminars are organized by The Management Club with its associate clubs based in Mt. Lavinia, Kalutara, Negombo, Kandy. The sponsors of the program are Sri Lanka Insurance, Bartleet Finance, Airtel, Odel, Richardson Projects, VisionCare, Ceylon Biscuits, Alpha Inustries, and Dimo, while the partners are Cinnamon Grand, Sunday Times/Business Times, MTV/YES FM and Bates Strategic Alliance.