The new Sangupiddy bridge, constructed by Access Engineering Ltd, which willl facilitate the road-link to the Jaffna peninsula through Kilali lagoon will link Sangupiddy and Karaithivu on the A32 road, Access said in a press release.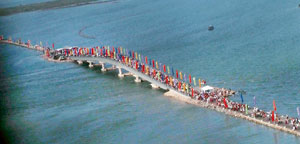 Pictures show the bridge, then (below) and now (above).
The duel carriageway bridge which is 288m long and 7.35m wide is erected on a RCC structure founded of pile foundations and the super structure being a steel girder structure and anti skid steel deck system. The designs & preliminary works related to project started on December 2009, even as the civil construction commenced on April 2010.
The bridge construction was completed by Access Engineering Ltd in a period of eight months in partnership with M/s. Mabey & Johnson Ltd of U.K. under the Regional Bridge Programme using British Government finance assistance, the statement said.
The road-link will reduce the distance to travel from the South to the Jaffna peninsula by almost 110 km and the reduction in travel time would be of even greater significance, the statement added. "We are proud to be associated with this landmark project," the company said.