Occasionally one is blessed with participating in a conference where substance outweighs the marketing hype. The only event last year for this writer came via a fruitful discussion on the success and plight of new skilled immigrants. While enthusiastic debate permeated on subjects ranging from the measures of success, assimilation and a borderless world, the best was reserved to new findings from Australia, Canada and the UK recruiters who quantified the average annual salary differences amongst new migrants.
Unsurprisingly those who came from fellow "Anglo" countries had annual remunerations close to or higher than the national median of all three countries. For those migrants from South Asia, the results were mixed. Some were far higher than the national median, although a vast majority were below. Those above median belonged to high-skill, high demand professions (e.g. Information Technology), but surprisingly there was a large disparity between wages within the same sector.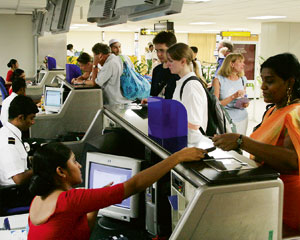 File photo shows an airport counter where a migrant worker prepares to board a flight
The disparity in IT alone for the same job was sometimes as high as $30,000 per year. What explains such wild swings amongst people who roughly have the same educational qualifications and come from the same region (thus reducing any potential for discrimination along those grounds)?
Luck is the most obvious and scientific answer. But the strongest link to lifetime earnings and job prospects seem to come from one of the least understood life-skill sets valued by employers the most - soft-skills. Based on multiple human engineering projects, soft-skills are categorised along the communication, influencing, pitching and sales lines. Wage disparities between similarly experienced and qualified workers doing the same job are predominantly explained by the lack of soft-skills. The situation is most acute in Information Technology, Engineering, Accounting and Financial Services. Soft-skills can have a material financial impact on personal wealth, migrant or otherwise. If on average those with weaker soft-skills spend a lifetime earning 40% less than what they could have, it compounds to a lot of money through a 40-year working life.
CEOs were unimpressed at commoditised MBAs and jokingly spoke of having to spend millions on undoing all the misinformation doled during the course. A recurring theme was the lack of soft-skills amongst most emigrants from South Asia; a result of an education system intent on technical expertise while denigrating the equally significant interpersonal communications. This is unfortunate as South Asia is home to some of the most empathetic societies in the world, thus soft-skills should be a foregone conclusion.
Recruiters and hiring managers are unimpressed. Some want immigration authorities to weigh soft-skills more than qualifications. That is a task fraught with subjective cynicism and open to extreme abuse. Upon closer examination, where emigrants fail to impress is largely due to the lack of experience in understanding large pitches (and accounts), typically in excess of $1 billion coupled with a weakness in vocabulary. Given their experience was most likely gathered in markets where deal sizes are small, the former is an easy fix. The latter though would take a minimum of seven years of intensive work. The good news is that it is the pitching skill that will land you the job and pay.
The only way knowledge of big-money, high risk, high reward pitches get transferred is to get it from people who actually participated in such work. Who would have assumed that some of the greatest takeovers in history were down to one single powerful presentation and the ability of a single individual to influence an entire board?
The good news for those seeking to gain an advantage is the formation of a global leadership group (CSD Institute, Australia) with an explicit focus on knowledge sharing in high value pitches. This was the result of an overwhelming demand for a global certification regime which could build the gap between recruiters and new migrants, in terms of communication expectations, irrespective of career specialisation. A unified global designation was expected to remove the need for recruiters and managers to doubt the fundamental soft-skill capabilities of applicants.
Access may be limited by selectivity and price (modalities were being finalised at the time of writing), but a new generation of workers and emigrants can look forward to a more equal starting point in their new adopted countries thanks to forthcoming global certifications. It is critically important for Sri Lankans (irrespective of whether you are an accountant or programmer) who migrate by the thousands (or are in critical roles locally) to get high level soft-skills designations under their belt to increase the chances of career success.
Knowing how to be a nice guy (in the eyes of others) and actively listening (easier said than done) was shown to lead to a whopping pay rise, outdoing any technical brilliance. If that sounds unfair, it's because it is. It's also a masterful introduction to how human beings make choices and take decisions.
(Kajanga is an Investment Specialist based in Sydney, Australia. You can write to him at kajangak@gmail.com)