At the age of 10, Dilhara Ishini Wickramasinghe became the youngest Sri Lankan chess player to receive a rare 'pat on the back' by the President of the World Chess Federation (Fide), Kirsan Ilyumzhinov.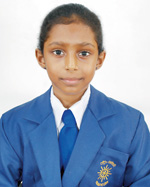 Dilhara Ishini
Ilyumzhinov during his official visit to Sri Lanka last week presented young Ishini with a merit award for her rapid progress at chess. "Become a World Champion. You are one of the talented youngsters I have come across," Ilyumzhinov had greeted Ishini with a motivating comment.
The youngster however had already proven her phsycological capacity for her age to justify the statement of by the Fide chief. During her budding career Ishini has taken part at around 24 competitions both local and international, and has won a gold or silver medal at almost every event.
According to her ardent father Keerthi Wickramasinghe, young Tshini took her first lessons in chess at the age of seven when she was a second grader at Musaeus College in 2008. Her first coach was Suneetha Wijesuriya who incidentally was a World class chess player for Sri Lanka.
"I indetified a rare talent in her which was unique for a young girl at seven. I was also a chess player during my schooldays at Bandaranayake College in Gampaha and I wanted her to pursue a career in chess. She was also equally keen and within a year she started competing," Ishini'a father said.
After her initial training at Golden Star Chess Club in Colombo, Ishini entered the school chess squad to be further trained under Vineetha Wickramasuriya who happens to be the sister of Suneetha.
Vineetha after seeing Ishini's approach in one of the practice sessions has given her extra attention. The coach had told the young girl's father that Ishini can go a long journey in chess if she's properly taken care of.
"So I bought her the advanced books and computer softwares that helps her practices while at home. She is very clever for her age and has a knack to calculate sums. She spends at least an hour for chess at home," her father added.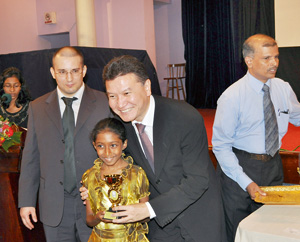 Ishini is also one of the brightest students in her class. She always ends up ranked first at exams and is becoming a popular figure at school for her talents. She became the youngest Sri Lankan women chess player to win a place in World Open rankings. Currently Ishini is placed 1718 in the World and she is also amongst the top five chess players of Sri Lanka.
In her age group which is under-12, Ishini is the No.1 ranked player in Sri Lanka while her ratings in the Asian circuit has topped to 12. In 2010 Ishini become the youngest chess player from Musaeus to represent the Under-20 inter-school championships. She was the only 9-year-old in chess history to win a place among the six players of Musaeus in order to take part in a senior tournament.
Eventually she won four out of six games, beating much senior girls from other schools to help Musaeus win the championship. She won her Fide status (The eligibility to earn international ranking) and has represented at over 12 international meets so far since 2010. According to her coaches and experts of the game, Ishini is tipped to be the next national champion within a year or so.