Vietnamese President Truong Tan Sang wound up a three day state visit to Sri Lanka yesterday during which he held talks with President Mahinda Rajapaksa and declared open the Vietnamese Embassy in Colombo.
The president who arrived in the country with a high-powered business delegation on Thursday, was ceremonially welcomed on arrival at the Colombo International Airport by President Rajapaksa and accorded a 21-gun salute.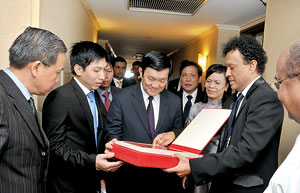 Government Information Department Director Ariyaratne Athugala handing over an album to President Truong Tan Sang. The album contained photographs of the Vietnamese President's official visit to Sri Lanka.
Since the establishment of diplomatic relations between the two countries in 1970, this was the first state visit by a Vietnamese President to Sri Lanka. The Vietnamese President was accompanied by First Lady, Madam Mai Thi Hanh.
In October 2009 President Rajapaksa made a state visit to Vietnam. Hosting the visiting leader to a state banquet, President Rajapaksa said it was a source of great pride and satisfaction that Sri Lanka was among the first in South Asia to establish diplomatic relations with the Socialist Republic of Vietnam.
"There is ample scope to further enhance the cultural connectivity between our two peoples. We need to create a better awareness at a people-to- people level of the similarities, connections and cultural ties we share," he said.
Responding the Vietnamese President recalled the consistent support extended by Sri Lanka to Vietnam and quoted the words of former late President J.R. Jayewardene who said, "…for Sri Lanka, all political parties and government stand by Vietnam."
"Treasuring, preserving and promoting these fond memories, we are happy to note the continued expansion of traditional ties between Vietnam and Sri Lanka," the Vietnamese leader said. During his stay the Vietnamese President inaugurated the Sri Lanka-Vietnam Business Forum jointly organized by the Ceylon Chamber of Commerce and the National Chamber of Commerce in collaboration with Ministry of External Affairs and the Embassy of Vietnam in Colombo.
President Rajapaksa, in the company of several Ministers and senior officials held bilateral discussions with the visiting Vietnamese President and his delegation which resulted in the signing of several agreements and MoUs between the two governments.
The documents were signed at the Presidential Secretariat. The agreements and MoUs covered a variety of sectors ranging from political, defence, investment, finance, education & training to machinery, manufacture etc.
An MoU on Political Consultations was signed between Prof. G.L. Peiris Minister of External Affairs and Vietnamese Deputy Minister of Foreign Affairs Doan Xuan Hung Tyeh. An MOU on co-operation between Ministry of Finance and Planning of Sri Lanka and the Ministry of Finance of Vietnam was signed by Senior Minister of International Monetary Cooperation, Dr. Sarath Amunugama and Minister of Finance of Vietnam, Prof. Dr. Vuong Dinh Hue
The MoU between the Ministry of Industry and Commerce of Sri Lanka and the Ministry of Industry and Trade of Vietnam was signed by the Minister of Industry and Commerce Rishad Bathiudeen and the Deputy Minister of Industry and Trade Le Duong Quang.
An agreement on Educational Co-operation between the Ministry of Higher Education of Sri Lanka and the Ministry of Education and Training of Vietnam was signed by Deputy Minister of Higher Education, Nandimithra Ekanayake and the Deputy Minister of Foreign Affairs of Vietnam, Doan Xuan Hung.
An MOU with the Ministry of Industry and Trade of Vietnam on Petroleum Sector Co-operation was signed on behalf of the Presidential Secretariat by Secretary to the President Lalith Weeratunga and the Deputy Minister of Trade and Industry of Vietnam Le Duong Quang, while an MOU on Defence Co-operation between the Ministry of Defence of Sri Lanka and the Ministry of National Defense of Vietnam was signed by Secretary to the Ministry of Defence Gotabaya Rajapaksa and the Deputy Minister of National Defense, Lt. Nguyen Chi Vinh
Another MOU on Two Way Investment Promotion Co-operation between the Board of Investment of Sri Lanka and the Foreign Investment Agency of Vietnam was signed by Chairman/Director General, Board of Investment, M.M.C. Ferdinando and Director General Foreign Investment Agency of Vietnam, Do Nhat Hoang
A Gas-oil Sales Agreement, was signed by the Chairman, Ceylon Petroleum Corporation, B.H.S. Jayawardena and the Managing Director, P.V. Oil (Singapore) Pvt.Ltd, Mrs. Hoang Tai Minh Nguyet.