A police raid on an abortion clinic has revealed that the 'lady doctor' at the clinic was in fact a sanitary worker of the Matara Hospital. At the time of the raid two women along with their male escorts had come for abortion.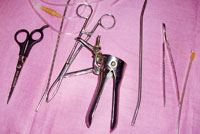 Some of the instruments that were seized during the raid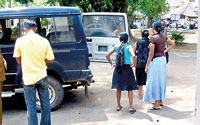 Some of those who were arrested at the Matara police station
The police arrested the woman and her manager along with the two couples and took away drugs and medical equipment. Investigations have revealed that the drugs and the medical equipment had been pilfered from the Matara Hospital, police said.
Detectives at the Matara police station said the woman carried out a dozen abortions a day in her clinic which was not closed even on poya days.
They said an abortion at the clinic cost between five to eight thousand rupees, depending on the stage of pregnancy and other issues related to the patient.
The detectives said the woman had learned the technique by watching gynecologists at work at the Matara Hospital where she had been working as a janitor for the past ten years.
The bogus manager and doctor were produced in court and remanded till October 24. The two couples were remanded till October 21.
The detectives said they were hunting for brokers who brought customers to the clinic.