Sri Lanka has been promoted as a wildlife spectacle of the world. But unregulated tourism threatens to spoil this nature-based tourism industry, even before its true potential is tapped. Over-visitation and visitor-misbehaviour have already put stress on leopards in Yala, elephants in Minneriya and even the Giant Blue Whales off Mirissa.
These large animals may survive, but there are smaller species found only in limited sites and disturbance to these habitats means the extinction of these species. The Marble Rock frog or Kirthisinghe's Rock Frog that is found only in a few sites in the Knuckles range tops the list of these threatened species.
This endemic amphibian was scientifically classified by Prakrama Kirthisinghe in 1946 as Nannophrys mamorata. Known as the Dumbara Galpara Madiya in Sinhala, Kirthisinghe's Marble Frog is already listed as Critically Endangered in the IUCN Red List of Threatened Species.
Kirthisinghe's rock frog is a small 25mm amphibian. It is a stream-dwelling frog found on cracks on the rocks, under boulders and on other flat wet surfaces in rocky hill streams. Kirthisinghe's rock frog is found only in the Pitawala Pathana and suburban area of the Knuckles range, making it vulnerable to extinction, if these sites are disturbed.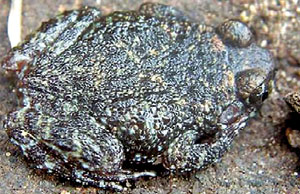 Marble Rock frog
However, Pitawala Pathana is a scenic area that also boasts of a drop popularly known as the Mini-world's End attracting thousands of tourists. These tourists often do not respect the habitats in this area, jumping into streams engaging in fun and frolic. Some of them who know about this unique frog look out for it by lifting rocks in the stream inadvertently destroying its habitat.
The Environmental Conservation Trust (ECT) claims that many of this frog's micro habitats in Pitawala Pathana have already been destroyed. ECT activist Sajeewa Chamikara said before an environmental sensitive site is promoted for tourism, there has to be a plan to manage the critical habitats and its unique species from over-exploitation.
He said in the Pitawala Pathana area tourists are only supposed to stick to paths demarcated by white stones, but people pay little attention to them.
Sajeewa said local tourists were largely ignorant about the protection of the environment and wildlife authorities and media should be conscious of this factor when promoting environmentally sensitive sites as tourist destinations. He feared that the new visitor centre coming near Pitawala Pathana may bring more tourists to the site.
However, a Forest Department source said the visitor centre would help to make people aware of the importance of not disturbing the natural habitats of Pitawala Pathana. He said most of the tourists behaved in an irresponsible manner because they were unaware of the site's unique ecosystem.
Dr. Anslem De Silva, Co-Chair of the Amphibian Specialists Group IUCN/SSC Sri Lanka said the micro habitats of these dumbara galpara madiyas can be demarcated to protect them from being disturbed by visitors. He also suggested the creation of new micro habitats for those already destroyed.
This amphibian expert along with his research team had kept some small rocks in the streams of Pitawala Pathana and the following day they discovered Kirthisinghe's rock frogs hiding under them. Citing this experiment as an example he said micro habitats can be created to provide artificial habitats for these threatened amphibians.
The Kirthisinghe's rock frog is also unique because it is an evolutionarily distinct species. It is one of the two Sri Lankan amphibians listed under the global conservation initiative called EDGE (Evolutionarily Distinct and Globally Endangered) species. This programme www.edgeofexistence.org aims at conserving threatened species that represent a significant amount of unique evolutionary history.
In addition to tourist behaviour, Kirthisinghe's rock frog is also being threatened by water that has been polluted by chemicals used in tea and cardamom estates in the surrounding Knuckles range.