Thirty three-year-old Sreeni Ameratunge entered 'My Salon' on Main Street, Negombo last month for a beauty therapy to make her skin fairer, little knowing that she would not leave the place alive. Sreeni, a resident of Daluwakotuwa in Kochchikade, Negombo and mother of a nine-year-old girl was an English teacher at Loyala College, Negombo. Her husband, Vijayantha (40) is employed in Qatar.
On September 24, Sreeni had left home around ten in the morning telling her daughter Supipi and domestic aide Josephine that she was going to town to pay the phone bill and get a haircut.
The salon in Negombo
Loyola College has lost a dedicated teacher. Pix by Mangala Weerasekera
Hours later, her homefolks got alarmed after repeated calls to her mobile phone drew a blank. "People saw her at the bus stand around 10.30 a.m. My granddaughter called me around 2 p.m. to say that Sreeni was not answering her mobile phone and she had not yet come home for lunch. We checked with the Negombo hospital and other hospitals in the area while her brother and in-laws went to Kochchikade in search of her," a sobbing Beatrice Iddamalgoda, Sreeni's mother said.
When the search yielded no result, the family members sought police help, but initial attempts by police to locate her were not successful. However, on the same night, Wattala police were alerted to a body being found in a swamp bordering the Dutch Canal on the Hekitta road, Wattala's Chief Inspector Nimal Ratnayake told the Sunday Times.
"Although the body had no signs of external or internal injuries there were patches on her face that was also discoloured," the inspector said. An investigating team arrested the owner of 'My Salon' and her husband. The arrest was made possible because the detective had obtained the IMEI (International Mobile Equipment Identity) number of Sreeni's phone, Inspector Ratnayake said.
Each time a call is taken from a mobile phone, its IMEI number along with the SIM number appears on the screens at the backend operations room of service providers. The IMEI number can be obtained either from the owner of the phone or a service provider.
According to the police, the salon owner's husband had removed the SIM from Sreeni's phone and replaced it with his. Ragama Hospital's Judicial Medical Officer had conducted the autopsy but the Sunday Times learns the report has not been submitted to courts yet
The Chief Inspector said on being arrested the beautician's husband, who runs an optometrist shop in the same building had confessed that Sreeni died after facial products were applied on her skin. He had reportedly told police that he had instructed his wife to keep the body till dusk and then contact a driver known to them to remove the body. He had taken the victim's phone and asked the driver to pawn her jewellery including a ring, bracelet and necklace, police said.
In shock: A grieving mother and the husband

Chief Inspector Nimal Ratnayake
"After applying the bleaching cream, Sreeni had fallen unconscious. Instead of seeking medical assistance the suspect couple had kept the body till evening in a cardboard box. The jewellery had been pawned for Rs. 100,000. We are yet to apprehend the driver involved in this incident," the Chief Inspector said.
The Sunday Times also learns that the Kelaniya Police Crime Division's Scene of Crime Officers (SoCO) are conducting forensic tests to ascertain whether the victim could have died of a chemical reaction.
Meanwhile Supipi, the nine-year-old daughter has been robbed of a loving mother
"After her husband went overseas, the mother and daughter became so close that they could not sleep without each other. Now Supipi is determined not to allow her father to go back. At night she can't stop talking about her mother," Muriel Janet Fernando, Sreeni's mother-in-law said.
Hailing from a family of teachers -- with her father at Maristella College and mother at Holy Family Convent, Wennappuwa, Sreeni was passionate about teaching. Apart from teaching English to primary classes she also trained students in singing and drama and trained cub scouts too. She had been teaching for 14 years, when death snatched her away.
Her husband Vijayantha Silva, an engineer at a waste water management plant in Qatar had rushed back to Sri Lanka on hearing the news that his wife was missing. "We skype each other daily. But that Saturday when I called she did not answer. I tried her mobile several times and then called home. When our daughter said she had not yet returned after going to pay bills and get a hair cut I booked the earliest flight. But before I flew to Sri Lanka on Monday (September 26) I saw online the news that her body was found in Wattala," he said.
Vijayantha said Sreeni had never gone for face- whitening or facials but that when Sreeni and Suppi came to Qatar during school vacations in August she had mentioned that she would get a facial done when she returned as she had got sunburnt during the hot summer we experienced then.
In an article titled 'Beauty and the Beast' the Sunday Times edition of August 21 highlighted the issue of unregulated beauty parlours and smuggled cosmetics.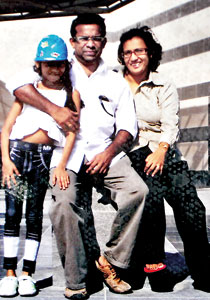 The happy family together in Qatar in August
However Cosmetic Devices and Drugs Regulatory Authority (CDDRA) Director Dr. Hemantha Beneragama said the problem persists while unregistered beauty parlours mushroom. "Although the law states that cosmetics imported to the country should be registered with the Authority, what we call 'baggage cosmetics' continue to enter the country illicitly. It is difficult for Customs officers to inspect each and every baggage. Therefore we have decided to increase our raids on beauty parlours," he said.
He said the Authority will also seek the assistance of the Ministry of Industries to set out minimum qualifications and experience to become a professional beautician and set up a beauty parlour.
The Sunday Times learns that among the products used on the victim's face was a skin toner and bleaching cream.
Senior Professor of Forensic Medicine and Toxicology, Prof. Ravindra Fernando said Sreeni may have died of a severe life-threatening allergic reaction known as Anaphylaxis.
"Severe allergic reaction can be caused from a food allergy, a chemical allergy or an insect sting. A similar kind of allergic reaction from a hair dye killed well known singer Malini Bulathsinhala. Chemical ingredients in certain beauty products can result in allergic reaction ranging from mild to severe,"he said.
According to Prof. Fernando, a patient suffering from severe allergic reaction will first find it difficult to breathe and if not treated immediately may go into cardiac arrest.