The Criminal Investigations Department (CID) is looking for more suspects from both sides – MP Duminda Silva's and former MP late Bharatha Lakshman Premachandra's--in connection with last Saturday's shooting at Mulleriyawa, which left four dead.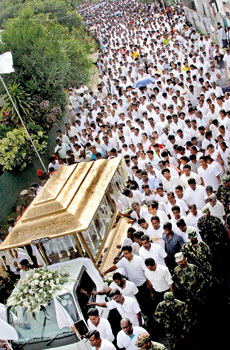 The funeral of Mr. Premachandra was held amidst a large gathering on Wednesday. Pix by M.A. Pushpa Kumara and Indika Handuwela
A senior officer of the CID told the Sunday Times that more persons have been identified following statements recorded from seven persons already in custody. The rivalry between supporters of UPFA Colombo district Parliamentarian Duminda Silva and former MP Bharatha Lakshman Premachandra was at its peak last Saturday after a series of incidents between the two factions in the run up to the poll.
According to Police on Friday night (October 7) around 10.p.m. a supporter of Mr. Silva was shot dead by two unidentified men in Kotikawatte of the Kolonnawa electorate. A supporter of Mr. Premachandra who was a friend of the victim had rushed to hospital where he was assaulted by Mr. Silva.
The following day as polling was drawing to a close around 5. p.m. Mr. Silva and some supporters had gone to the polling booth at Rahula College, Angoda and Mr. Premachandra had been about three kilometres away at Salmal Uyana, Himbutana.
Mr. Silva had reportedly asked a female voter 'Katada Chande Dunne' (whom did you vote for). The voter was the wife of Prasanna Solongarachchi, vying for the top post in the Mulleriyawa – Kotikawatta Pradeshiya Sabha who was backed by Mr. Premachandra.
According to police Ms Solongarachchi had said ' Mage Minihata Chande nodi, wena kata dennada' (Who else would I vote for except for my husband). Mr. Silva had allegedly slapped her and her sister leading to a stir outside the polling booth. Ms Solongarachchi had called her husband's number, but there was no response. Her attempt to contact a police officer also failed.
She had then contacted Mr. Premachandra, who was about to leave to lunch but had instead changed his mind and visited the scene. Mr. Premachandra was proceeding in his vehicle closely followed by a second vehicle carrying some of his supporters.
Mr. Premachandra's brother Asela Wickman who had spoken to several eyewitnesses including the driver Shantha Perera, told the Sunday Times that a convoy of vehicles blocked the path of his brother's vehicle.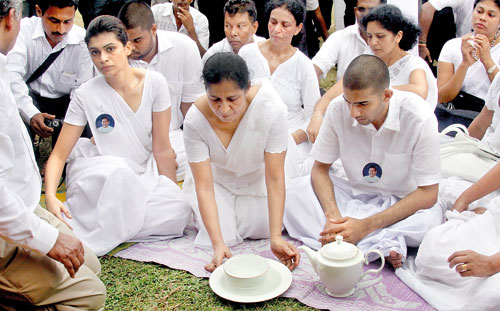 Family members observing religious rites at the funeral
"Duminda and my brother had an argument and both of them exchanged blows. My brother had kicked Duminda when someone had shouted, 'Kakulata Wedithiyapan' (Shoot him on the leg). Duminda had shouted 'Mu Ivarayak karaladapan' (Finish him off). My brother had fallen at this time and after that a hail of bullets was fired at him," he said.
He told the Sunday Times that he had spoken to more eyewitnesses but they were afraid to come forward. Meanwhile Provincial Council member Renuka Perera said there had been a delay in taking Mr. Premachandra to hospital as they were surrounded by supporters of Mr. Silva .
He charged that when the mortally wounded Mr. Premachandra was rushed to the IDH hospital some people had thrown stones at the hospital to delay treatment. However they had withdrawn when he was pronounced dead on admission.
Mr. Premachandra's driver in his statement to the CID had said that they were surrounded by about 20 vehicles of Mr. Silva and his supporters. He said he witnessed a police constable detailed for Mr. Silva's security shooting Mr. Premachandra with a T56 automatic weapon.
The CID had informed Court that constable Mel was the only person armed with a T56 weapon.
Police said investigations have revealed that the gunman continued to fire at Mr. Premachandra for about five minutes at least.
Meanwhile, Hirunika Premachandra the daughter of the slain presidential advisor told the Sunday Times that the family hoped the government would carry out an impartial investigation. "My father's hopes was to contest the Parliamentary election. He was preparing for that. I am expecting that my father's supporters will be taken care of. After about four years I will decide whether I will be entering politics," she said.
Yohendra, Mr. Premachandra's son said his father worked hard for the party's victory at the local election and the family was calling on the government to see that justice is done in the investigation into the slaying of his father and three others.
"My hope was to see that my father does well in politics and re-enter parliament and go on to become a minister. My hopes have been dashed," he said. The funeral of Mr. Premachandra took place on Wednesday at the Kolonnawa Umagiliya Public play grounds amidst a large gathering, that included trade union representatives from various parts of the country, SLFP members and villagers.
Kotte Naga Viharaya Chief Incumbent Ven. Maduluwawe Sobitha Thera during his funeral oration urged the government to bring an end to the 'manape' voting system which has caused rivalry among party members of the same party.
My father's hopes was to contest the Parliamentary election. He was preparing for that. I am expecting that my father's supporters will be taken care of. After about four years I will decide whether I will be entering
politics." - Hirunika
My hope was to see that my father does well in politics and re-enter parliament and go on to become a minister. My hopes have been
dashed." - Yohendra

Duminda and my brother had an argument and both of them exchanged blows. My brother had kicked Duminda when someone had shouted , 'Kakulata Wedithiyapan' (Shoot him on the leg). Duminda had shouted 'Mu Ivarayak karaladapan' (Finish him off). My brother had fallen at this time and after that a hail of bullets was fired at him." - Asela