On April 28, you'll race in a tuk tuk, dress up as a naattami, ride a double-decker, solve riddles, follow clues, unearth treasures, blind-taste gourmet chocolate, dance, row, and do a whole load of things you never thought you'd be doing. Colombo will literally come alive for you when you sign up to take part in the We Did It Amazing Colombo City Romp, organized by Entertrainers.
Graham Brownlie, who is organizing the one-day event together with his wife Eli Usma, is adamant that this is not a race, despite there being a winner. "The most important thing about this is to have fun. Call it a cliché, but if you're not having fun our motive's lost," he insists.
| | |
| --- | --- |
| | |
| Graham Brownlie | Eli Usma |
It seems to hold true. 'Fun' is certainly a predominant part of the event. Participants will meet up at Warehouse D of the Park Street Mews on the day of the Romp. You can choose one of the four start times (09.00, 09.30, 10.00, 10.30)-while the event is expected to last five hours, the activities are not time bound, Graham says. Again, what's important is that you finish them.
After registering you will be handed a set of instructions, a map (it's all too easy to get lost in Colombo!), an Amazing Colombo City passport (this aspect is so cool I would take part in the race for the passport alone), and a set of Know Your Colombo questions. A whole plethora of different challenges mean you must make a choice of which locations and challenges you will participate in, and off you go.
Your map will help you navigate around Colombo, aided by the bright red double-deckers which will let you hop on and off where you please, and the tuks which will take you into the more suburban areas. Checkpoints at your challenge locations will stamp your passport once you've completed it, and there will be volunteers who will monitor your participation and aid you, while also making sure your health is in safe hands.
The challenges themselves are not ones you'd want to miss out on. From dabbling in archery, dressing up as naattamis, identifying gems and dancing at Independence Square, to visiting war memorials and blind tasting chocolates at the Hilton, there is something in it for everybody. "We've picked them for their versatility, and the main thing we looked at when coming up with them was the entertainment aspect," says Graham. "All these activities are very much fun to do-you'll love every moment of it, and most of them will crack you up. Anyone can take part-there are no age limits. We're planning for baby Rompers and grandparents alike. We have couples, corporate teams, friends, parents with their babies, kids-these participants are as diverse as it gets!"
The concept for the event was born from experience. As the driving forces behind Entertrainers, a group fitness studio at Lifestyle Fitness Centre down Sir Marcus Fernando Mw, Eli and Graham have guided many corporate teams around Colombo in team building exercises. Their programmes take a marked turn from the ordinary-these Colombo City Romps took professionals from their comfortable corporate offices into the streets of Colombo, where they took part in challenges that had them navigating through the city and solving problems.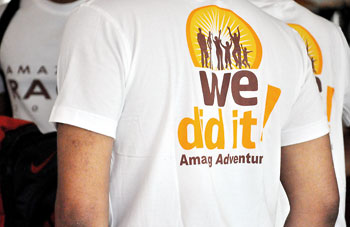 The feedback was amazing, and Entertrainers were requested to take the city romps to a larger audience. So they've set up the We Did It Amazing Colombo City Romp. "We're trying to make it more of an inside tourism activity," Graham explains. "Eli and I moved here in 2003, and as foreigners, we've been around Colombo quite a lot. Something I was quite surprised to realize was that most residents in Colombo don't know much about what the city offers. There is so much to see and do in Colombo-it's such a cultural hub and it's a shame more people don't explore it. So we're trying to promote the city and healthy exercise with this event. There are new challenges, sightseeing, teamwork, and exercise at the same time. It's a pretty good combination."
There are some pretty nifty prizes to get your hands on too. Participants can choose from three categories in which to compete -Friends & Family, Corporate Buddies and Students. Winners will get prizes that include weekend getaways, exploring expeditions, free meals, cash prizes and much more. Participants will also get goodie bags which will entitle them to special promotions and freebies.
Signing up for the romp is easy. Four options are available-you can register online through tickets.lk or anything.lk; visit the Entertrainers at 45, Str. Marcus Fernando Mw; buy the tickets from the Hilton Colombo Sports Club, Park Street Mews Café, the Commons, Bayleaf or the Sandwich Factory; or on the day of the romp itself, at the Park Street Mews. Teams can comprise a minimum of two people and a maximum of five people-the first 50 teams to register will also receive free We Did It Amazing Colombo City Romp t-shirts.
The romp is not a race, but rather a game of strategy that involves teamwork and using your collective brainpower to plan your route around the city solving the clues and Checkpoint Challenges. Part Treasure Hunt, part Amazing Race, part tuk tuk race and part puzzle, the We Did It Amazing Colombo City Romp wants you to discover Colombo for what it is-a piece of paradise like no other.