Shaggy may never know it but years ago he managed to surprise Reeza Zarook. Having just returned from London, Reeza went into Shaggy's first concert in Colombo expecting to be just a little bit underwhelmed - by the venue if nothing else. Instead, Shaggy made him forget all his qualms and won him over completely: "In reality he was awesome. I've seen many others since but no one in my mind has had an audience so hyped-up," says Reeza, who is now the CEO of Anything.lk.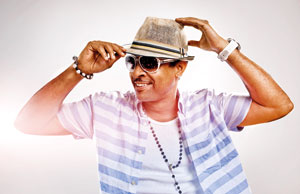 It's fitting then that for Anything.lk's first foray into staging a serious concert, they decided to go back to Shaggy. While some fans may not remember anything more recent than 'It Wasn't Me,' Shaggy is in fact at the top of his game. His tenth studio album, 'Summer in Kingston' got him his fifth Grammy nomination last year (he won Best Reggae Album for 'Boombastic' in 1996) and some serious respect. As a producer, he's matured into a force to be reckoned with. Now, he's one of the most recognizable faces in reggae and is hailed as one of the earliest artists to help take dancehall mainstream. "As a performer his ability to cut-across generations makes him special," Reeza told Mirror Magazine. "His songs are all known hits and that's another reason why the concerts are so well received."
Though Shaggy is a safe bet, the concert is still an ambitious step up for the young company. When we first interviewed the guys behind Anything.lk in 2011, they told us that they wanted to offer the best daily deals they could find to local markets – "we wanted to introduce Sri Lankans to the fun side of finding and trying new things or places," Reeza says now. "I think we are succeeding in doing that and we wanted to show the public that enjoying a well-known current artist was not something only for a few." It's why their tickets are relatively cheap – just Rs.1,000. And Shaggy won't be the only deal on offer that night – Reeza says they would like to use the event to showcase their merchants as well.
"We wanted the show to be different," he explains. "So we came up with the idea of having a fun day out which culminated with Shaggy's performance." The event begins at 4pm and features food vendors, beverages, Anything.lk merchants, a kiddies corner, carnival games, performances by local artists (The Sherifs, Natasha Rathnayake and Bathiya & Santhush in case you were wondering) and a whole lot more. "We've also set up the venue in a way where everyone can enjoy the concert," Reeza assures us. If it sounds like a challenge - it is. "Everyone thinks that putting a show together is easy. Just pay the artist, sell the tickets and that's it." Of course there's a great deal more to it, not least because Shaggy will be travelling with his live band. No CD tracks for him, thank god.
"Make no mistake, we never underestimated the enormity of this task, but it hasn't failed to throw up surprises on the way!" Reeza confesses, though he's quick to reassure us that it's all under control now that they're in the last stretch.
Unfortunately, Shaggy might not stick around to enjoy a little slice of island paradise. He is scheduled to arrive on Friday and leave soon after the concert. He's reportedly enthusiastic about coming back though – having demanded a 'Sri Lankan welcome' and 'spicy food' in advance. But if you're disappointed he'll be gone without an encore, let this console you – Anything.lk will have more for you this year. "All of our focus is on Shaggy right now but right after that our events team will start work on our next project which is...well, you'll find out later in the year!"
Shaggy will perform live on April 28 at CR&FC . The tickets for the show could be purchased exclusively online at www.anything.lk and at the gate on the day of the show.