Sri Lanka figured in the general debate of the Human Rights Council (HRC) in Geneva with the European Union and several countries expressing concern about the humanitarian situation in the north and several NGOs calling for UN intervention.
However Sri Lanka's representative, Human Rights Ministry Secretary Rajiva Wijesinha, said the best assistance the international community could offer was to persuade the LTTE to let the people go to government-controlled areas.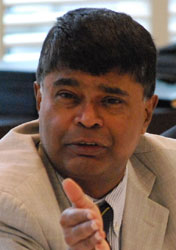 Rajiva Wijesinha
"We will look after our own, to the best of our ability, with the assistance of our friends who care about our people, including the dedicated workers of several UN agencies," Dr. Wijesinha said.
Sri Lanka figured along with countries such as China, Sudan, Iraq, India Afghanistan when the Council took up a debate on September 16 and 17 under the "Human Rights issues that require the Council's attention."
EU representative Jean Baptiste Mattei of France expressed concern over the conflict in Sri Lanka as it offered "a fertile ground for deterioration of human rights in violation of international humanitarian laws",
The EU envoy expressed particular concern regarding the humanitarian situation in the north.
Switzerland, the Netherlands and Ireland also expressed concern regarding the plight of civilians in the north. Japan said it was encouraged by the recent positive steps taken by the Government on human rights issues.
Several NGOs also spoke on the Sri Lankan situation. Among those who voiced concern was Amnesty International representative Peter Splinter. He said the Council should call on both the Government and the LTTE to uphold human rights.
A representative of the International Movement for All Kinds of Racism and Discrimination urged the Council to remind the Government to allow humanitarian agencies access to civilian population in need of humanitarian assistance.
Sri Lanka also figured during a panel discussion and interactive dialogue on missing persons. Deputy Solicitor General Yasantha Kodagoda denied allegations levelled by two NGOs that there was an ethnic profiling exercise afoot in Sri Lanka.
As the Council ended its sessions on Wednesday, a few hundred members of the Switzerland Tamil Forum gathered in front of the UN office carrying placards and distributing leaflets calling for urgent international intervention on behalf of civilians in the north.