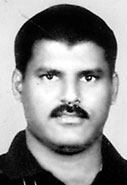 Sritharan
A 35-year-old resident of Sri Saranankara Road, in Kohuwala, was allegedly abducted on September 19 by a group of armed men dressed in civilian clothes. The missing person is Subramaniam Sritharan.
According to Mr. Sritharan's brother, Mr. Nagapusanan, a white van stopped outside a catering service in Kohuwela, where Mr. Sritharan was working. Four men got out of the vehicle and demanded that Mr. Sritharan and a colleague get into the van, saying they were being "taken in for questioning".
After the van had travelled about 100 metres, Mr. Sritharan's colleague, a Muslim, was asked to get off the vehicle. It was he who informed Mr. Sritharan's family about the abduction.
Mr. Sritharan, who lives in Canada with his wife and daughter, came back to Sri Lanka four years ago to do the paperwork necessary to get permanent residency in Canada. According to his brother, Mr. Sritharan had no known enemies, and was planning to return to Canada.
Mr. Sritharan's family has lodged separate complaints with the Kohuwala police and the Sri Lanka Human Rights Commission about the disappearance, Mr. Nagapusanan said.