HEENPANWALA, WELIWERIYA: Like most adult males in rural Sri Lanka, the villagers of Heenpanwala are in the habit of having a drink after a hard day's work. Since most of them earn a meager income, and cannot afford legally sold liquor, they turn to the illicit brew known as "kasippu".
On Tuesday night, September 23, the power of kasippu was felt in all its deadly force by the folk of Heenpanwala, a village in Weliweriya, Gampaha. More than 10 residents died within hours of consuming a particularly potent version of kasippu, while 55 persons were admitted to hospital. Several of the victims have been permanently blinded.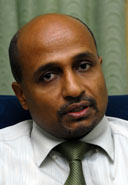 Dr. Dhammika Mayadunne: Case of methyl alcohol posining
One of the victims was Bodhige Ruben Silva, 48, who died in agony that night, barely five hours after sipping what was to be his last glass of kasippu. On Tuesday night, Ruben, accompanied by his brother and brother-in-law, made their way to a new kasippu vendor whose brew was the talk of the village because of its extra-strong "kick". They downed the brew, felt "high", and headed home. In the middle of the night, Ruben woke up screaming in pain. He was crying out that he could not see and that his body was burning all over. "This was about two in the morning. We did not know what to do," Ruben's sister Millie said.
At about 4 am, the family heard a knock on the front door. It was the police. They said there had been reports of kasippu poisoning in Heenpanwala, and that several people in the surrounding villages who had visited the kasippu vendor that night were either dead or in hospital.
The police said they had heard that members of Ruben's family had visited the kasippu vendor that night, and that they had come to check on their state of health. "When we went into Ruben's room, we found him lying still, his body stiff. We rushed him to hospital, but he was pronounced dead on arrival," Millie said.
Ruben, a bachelor, lived with his brother and sisters. His brother Victor and brother-in-law Lakshman Dias are also suffering from the effects of kasippu poisoning: Victor's vision is badly affected, and Lakshman is feeling the side-effects.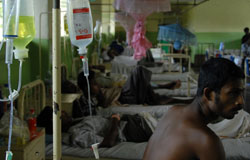 Victims of kasippu poisoning in the village of Heenpanwala were rushed to the Gampaha Hospital and the Colombo National Hospital in the middle of the night of September 23. Some of the patients have gone blind.
Vimalawathi, who is Ruben's sister and Lakshman's wife, told The Sunday Times that she and her children would plead with Lakshman not to go out drinking, and that often there would be heated arguments on this matter. She hoped that after Tuesday's night's tragedy, and the death of Ruben, Lakshman would give up drinking for good. "It's been a horrifying experience," she said. "I don't think he'll ever drink again."
G. A. Gunasena (54) was another victim of the lethal brew. As soon as he started to show a bad reaction, he was taken to the Gampaha hospital, and from there he was rushed by ambulance to the Colombo National Hospital, but died on the way.
His widow, B. W. Ariyawathie, told The Sunday Times that her husband was an occasional drinker, a habit he had maintained for the past 30 years. "He would take a drink now and then, but he never caused any trouble. He would tell us where he went, and whom he chatted with and what went on in these watering holes."
Her son, Indika Liyanage, was also among the victims. After receiving treatment in the intensive care unit (ICU) of the Gampaha Hospital, he has been transferred to a general ward. "Indika seldom or never drinks," Indika's wife Dilhani said. "This was one of his rare nights out drinking. I am sure he will never touch kasippu, or any alcohol, after this."
| | |
| --- | --- |
| | |
| Millie | Ariyawathie |
According to another villager, Upali (48), the kasippu den was the only such place for miles around, and that the family running the illicit business had started selling moonshine about eight months ago. A quarter of the brew costs Rs. 50, and a bottle goes for Rs. 200."This is a lot cheaper than any legal alcohol," said Upali, adding that the brew produced at the den was known to be extra strong.
A sample of the brew has been sent to the Government Analyst for investigation.
Gampaha Hospital director Dr. Dhammika Mayadunne said the kasippu victims showed all the symptoms of methyl alcohol poisoning. The consumption of methyl alcohol, a commonly used ingredient in the making of kasippu, can cause serious ill effects, such as blindness, and may even result in death. The substance directly attacks the nervous system, the doctor said. "This seems a clear case of excessive use of methyl alcohol," he said.