The multi-million rupee 'Sakvithi' scam seems to have spared not even the handicapped or the sick as it plundered the wealth of thousands of unsuspecting customers who suddenly realized their lives' savings had gone up in smoke. The scam was exposed following a raid by the Central Bank on unregistered financial institutions, last Friday.
Sakvithi Ranasinghe
Kingsley de Silva, an ex naval rating suffering from a chronic kidney ailment, has been robbed of Rs. 1.2 million -- money he had saved for a life-saving surgery next month. This money, the 65-year-old Mr. Silva said, included payment he received from the Navy on retirement and the rest from the part-sale of an ancestral land in Maharagama.
But now, he stares into space, not knowing what to do or who to turn to. Dulanjan Atapattu, a retired government service teacher was due to undergo by-pass heart surgery next month. He needed extra money for the operation and medication and invested his savings in what he thought would be an income-generating scheme.
"I invested Rs. 2 million after selling my house. Initially I got a monthly interest of 6% and was impressed with the return. But I was soon to be proved wrong," Mr. Atapattu said. Wasantha Munasinghe whose hands were amputated following an accident at a factory in Kuwait, where he had worked for nearly 10 years said, he invested everything he earned on Sakvithi, expecting monthly returns, but his hopes had been dashed.
"I can't find a job as I am handicapped. The Rs. 2.3 million included my life's savings and the money I received as compensation after the accident. I am now helpless and my plight is such that taking poison seems to be the only option left," he lamented.
These were the woes of some of the victims who lined up at the Mirihana Police on Monday to lodge their complaints. As more and more complaints keep pouring in, police have begun scheduling appointments to the victims.
Those turning up to lodge complaints are being accommodated in the police station's garage, with 10 policemen assigned to take down the complaints.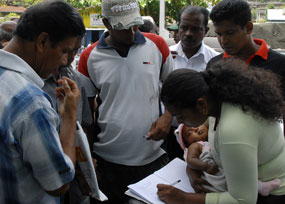 Crowds flocking at the Sakvithi building yesterday and (top) a woman writing down her complaint at the premises.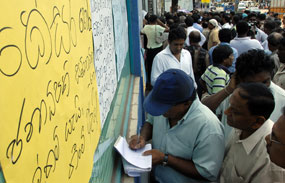 Before flocking to the police station, the swindled-and-dejected depositors were seen gathered at number 8, Nawala Road, Nugegoda, from where the Sakvithi Housing Constructions Limited operated.
The scam, which has reportedly defrauded about 5000 investors to the tune of a staggering Rs. 900 million, is now being considered one of the largest to have hit the country.
The Mirihana police station and the Nugegoda Police division have deployed special investigation units to probe the scam. So far six suspects have been arrested. However, the mastermind behind the scam, identified as Sakvithi Ranasinghe and his accomplices are evading arrest. According to latest reports, Ranasinghe fled to Chennai, India on September 9 with his family after handing over operations of the office to his accomplices whose whereabouts are unknown.
Sakvithi, as he was popularly known, was an English language tuition teacher by profession However police are yet to ascertain whether that was his real name as he operated under many aliases including Chandrakumar Ranasinghe, A.R.M.C Weerakumaran and Chandra Weerakumara. This man of many names began his financial company in 2003. It operates in Kandy, Kurunegala and Ratnapura.
His rise to stardom came on meeting senior journalist and director of the state run Independent Television Network (ITN), Edwin Ariyadasa. Sakvithi hosted many television programmes through Mr. Ariyadasa's influence.
Evidence of the close association between Mr. Ariyadasa and Sakvithi can be seen on a poster depicting the two outside the Sakvithi office in Nugegoda and on the cover of an English language DVD for beginners, produced by Sakvithi.
With Mr. Ariyadasa's assistance Sakvithi managed to launch a large-scale advertising campaign to lure investors into his financial snare. Many of the investors who spoke to The Sunday Times said one of the reason's they had faith in the company was due to Mr. Ariyadasa's impeccable reputation. Mr. Ariyadasa was one of the director's of the company.
When questioned by police, Mr. Ariyadasa claimed he had no knowledge that the company was swindling the investors. Police said he was released after recording a statement as there was little evidence to point to his involvement.

K.M. Leelasena
The victims did not include only unsuspecting investors. K.M. Leelasena who had rented his van to Sakvithi's company told The Sunday Times that one of Sakvithi drivers, known as Sugathadasa, had told him that Sakvithi had called Sugathadasa last Saturday from Chennai and had instructed him to handover the vehicle to Janaka Siriwardhena, one of the directors of the company. Leelasena had come to the Mirihana Police Station to complain about the loss of his vehicle which he had hired.
"Sakvithi has defaulted payment for the van I rented to him. When I called Sugathadasa to ask for the van, he told me that Sakvithi had called him last Saturday from Chennai and had asked him to give it to Janaka. I wanted to make this complaint but I have been asked to wait for another three days. The police can get his phone number and his whereabouts in Chennai from Sugathadasa. I don't understand why there is so much delay, to track him down," he said.
It is learnt that Sakvithi frequented Colombo casinos where he placed bets of over Rs. 200,000, often accompanied by a Police Inspector attached to the Mirihana station. This police officer has now been identified.
Last Monday, this officer along with men armed with clubs and bicycle chains had reportedly come in a lorry to the Sakvithi office premises and taken away items including computers, fax machines, photo copying machines, CDs, laptops and vital documents.
Those who had flocked outside the office stood helpless while vital evidence pertaining to one of the biggest scams that had struck the country was being shoved into a lorry.
Attempts made by some angry duped investors to fight and stand up to the officer ransacking the entire Sakvithi building had been futile, The Sunday Time learns. On witnessing the scene some had gone to make a complaint against the officer and his goons but the Mirihana police had reportedly refused to take down a complaint against their own inspector.
The Sunday Times learns that Sakvithi had been running a gem mining business in Kuruvita under the officer's name. It is also learnt that the officer has been on sick leave since last week and his whereabouts are not known.
Sakvithi usually means, king of kings but in this fraud of all frauds, the majority of the victims are middle-income-earners who had either deposited their life's savings or had pawned their jewellery or sold their house or car to invest in Sakvithi in the hope of a high interest on their capital. But now all they are left with is desperate hope that one day their monies would be returned to them, but when or how no one knows.
Trail of tears
H.A Dayananda who was born blind told The Sunday Times that he had invested Rs.3.5 million in Sakvithi with the hope of giving his children a better education and to pay off his loan from the interest he received.
"I sold a land that I had inherited and I was planning to invest it somewhere. I was told about Sakvithi so I called them and Chathuri, Kesara, Nalaka and Dimanthi, who worked there talked me into investing at Sakvithi in February this year. I only got 6% interest for the first few months after that they stopped paying me. I had to go there three of four times to ask for my money and each time they came up with various excuses," he said.
"I have two children and I spend a lot on their education. I hoped to send them abroad for their higher studies. I also had a plan to buy a small estate in the hill country. I have a loan that I am now unable to pay. I only hope that we get some sort of redress from this calamity," he said.
---
T.I.K De Silva lamented that he was now unable to fund his daughter's education, pay the rent, the bills and his medicine since he had sold his house and invested all he had in Sakvithi.
"I heard about Sakvithi one year ago and I trusted the place because people of eminence such as Edwin Ariyadasa were involved. In January this year I invested the money I got from selling my house.
For the Rs. 1.1 million I invested I received a monthly return of 6%. For the first few months I received my interest but later they stopped paying me," the retired Colombo Municipal Council clerk said.
"Now I am helpless. I have a lot of commitments. My landlord is asking for his house back as I am unable to pay the rent. Soon I will have to be on the streets," he said.
---
A.R.L Salgado who is a retired English school teacher said that his hopes for a better life for him and his family have been shattered.
"I invested some money I had collected for my daughters' future and also the money my wife got on pawning her jewellery. I sold my house and I rented a house in Minuwangoda. I invested Rs. 1.6 million at Sakvithi and to this day I consider it to be the biggest mistake I ever made. But now my hopes and dreams are shattered. At times I feel like committing suicide," he said.
---
K. Wijeysooriya said after making inquiries on Sakvithi he decided to invest his money hoping to increase his returns to buy a new house.
"My wife and I had invested in Sakvithi hoping for a better future. We had plans of buying a new house from the returns we got. I invested Rs. 600,000 last month with the intention of investing more. We did not receive any interest and we eventually found out that the company had duped us," he said.

---
S. Bandara from Negombo who is retired and has no means of income had invested Rs. one million that he had saved so he would be able to purchase medicine for his heart condition.
"I invested this money in May last year because I had faith in people like Edwin Ariyadasa. The day I went to invest my money he assured that Sakvithi was an honest man. I can't afford to buy my medicine anymore as I have invested everything I had. I just hope someone could help people like us who have lost all our hard earned money," he said.

---
L. Piyadasa from Mulleriyawa who is suffering from Parkinson's disease said he feels like taking poison as he has no way of buying medicine for him and his wife.
"I dumped all I had into this. I have no income now. The only way I can survive is by begging on the streets. I hope people like Sakvithi, Edwin Ariyadasa and others responsible rot in hell for what they have done to us," he said.