A report on samples of milk powder sold in Sri Lanka, which was sent to be tested in Singapore in the wake of the crisis that erupted in China due to consumption of melamine-contaminated infant milk, is expected within two weeks, Consumer Affairs Authority Chairman Rumy Marzook said.
As the Government awaited the report, Customs authorities stepped up their surveillance on milk powder being imported to Sri Lanka, especially taking steps to monitor the original country of importation.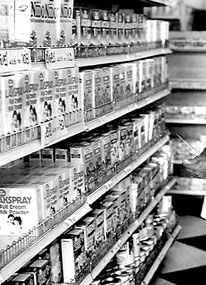 Milk powder packets on the shelves in a supermarket
According to Sri Lanka Customs, Sri Lanka has imported 248,000 kg of milk powder and dairy products from China till August this year, with 17,000 kg being imported last month. However, Customs Director General S. A. C. S. W. Jayatilake said that infant milk powder was not imported from China.
Officials ruled out contamination of milk powder imported to Sri Lanka as imported items including milk powder are tested well as prescribed under local food laws before they are brought into the country.
"Food items being brought into Sri Lanka are subjected to several tests. We would continue to monitor these food items, including milk powder. We need to pay attention to the third country. For instance items come in from countries such as Singapore, Hong Kong and Dubai. These countries import from China, so in such cases we would monitor these items, to know where exactly they are imported and would perform thorough tests", Mr. Jayatilake said.
Milk powder samples imported to Sri Lanka are tested by the Food Control Administration Unit of the Health Ministry and the Sri Lanka Standards Institute (SLSI). Tests are also carried out by the Atomic Energy Authority for radiation in milk powder. Only then will it be released by the Customs.
Following the death of three babies after consuming milk tainted with the toxic chemical melamine in China, the Government ordered that samples of milk powder be sent to an internationally accredited laboratory in Singapore to ensure that milk products available in local markets were safe. Over 54,000 children have sought medical treatment in China while almost 12,900 are currently hospitalized.
"These tests are being carried out through an abundance of caution," Mr. Marzook said.
Samples from several companies producing milk related products, including Fonterra Lanka, Nestle, Maliban and Kotmale were sent to Singapore last week, he said, adding that ad hoc samples will also be collected from other companies and individuals importing milk powder to Sri Lanka to be sent for testing.
Several samples were also sent to the Industrial Technology Institute (ITI) for testing. Trade Ministry Secretary Dr. R. M. K. Ratnayake assured the public that there was no reason to worry.
"The tests are being carried out as a precautionary measure to dispel fears. There is no cause for alarm", he said. However, he said children below six months should not be given powdered milk.