The situation in Sri Lanka does not warrant international intervention under the Responsibility to Protect (R2P) doctrine, the head of International Crisis Group that spearheads the advocacy of R2P said here.
Gareth Evans, former Australian foreign minister and now a leading advocate of the Responsibility to Protect principle said that there was no reason right now for Sri Lanka to be a R2P case.
Mr. Evans was speaking exclusively to The Sunday Times following a panel discussion on R2P at the International Institute of Strategic Studies last week. He shared the platform with Chris Patten, the last governor of Hong Kong and a former European Commissioner for External Relations and now co-chair of the International Crisis Group, a leading global think tank, and David Hannay, a former British ambassador to the UN who was closely involved with the negotiations leading to R2P.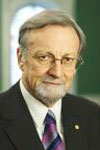 Gareth Evans
Under the R2P doctrine international intervention is urged where sovereign states fail to act to prevent genocide, ethnic cleansing, crimes against humanity and war crimes leading to catastrophic situations.
Earlier this month Sri Lankan Tamil expatriates appealed to the British Government to act against crimes against humanity, ethnic cleansing and genocide being committed in Sri Lanka by the Rajapaksa administration.
Gareth Evans' assessment suggests that such catastrophic conditions do not exist in Sri Lanka that demands R2P intervention.
At the recently Labour Party Conference in Manchester a prominent Tamil party supporter urged the conference to pass a resolution that would serve as a message to the Sri Lanka Government not to violate the human rights of Tamils and to grant them self-determination.
Gareth Evans whose advocacy of the R2P cause during the Neelan Tiruchelvam Memorial Lecture in Colombo last year led to stinging attacks on him from some sections of Sri Lankan society, said that though Colombo is not a R2P case today does not mean the situation could not deteriorate in the future.
"It is still a troubling situation and there is cause for concern. But we are hoping that it will not deteriorate into a catastrophe," Mr. Evans said. He was in London to launch his new book that deals with R2P and other issues concerning the think tank he heads.
He said that it is for the Sri Lanka Government to put in place constitutional and institutional arrangements to end the internal conflict in the country. "It is for the government to get them going properly," Mr. Evans said adding that human rights watchdogs should be strengthened to deal effectively with any violations.
Meanwhile Commonwealth leaders meeting at a special summit in New York in the wings of the UNGA sessions have endorsed the holding of a Commonwealth conference on terrorism possibly around February next year in Colombo.
Sri Lanka made the proposal at the Commonwealth summit in Kampala last November and agreed to host it.
It is understood that ahead of that conference the ten-member Commonwealth Committee on Terrorism chaired by Australia will meet in London to map out details of the Colombo meeting. This committee has been dormant for several years.