Tamil National Alliance (TNA) parliamentarian Sathasivam Kanagaratnam, released from custody this week after being held under Prevention of Terrorism Act (PTA), has been told to get involved in the campaign in support of President Mahinda Rajapaksa, a party source said yesterday.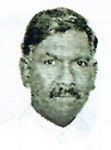 Kanagaratnam
The MP who was held for eight months on allegations of working with the LTTE has telephoned his fellow Parliamentary Members and told them he had been released on condition that he would campaign in support of the President, a senior TNA MP said.
Mr. Kanagaratnam has been provided with a newly-built circuit bungalow inside the Northern Province Governor's residential complex at Mannar Road in Vavuniya.
He has also been provided with a vehicle from the Ministry of Resettlement and Disaster Relief Services along with police security, the senior TNA MP said. Mr. Kanagaratnam's son who was arrested in connection with the LTTE airstrike in Colombo February last year still remains in custody.
The MP was living in the Wanni for more than a year during the war and was arrested soon after he left the area. He was not contactable.