For young marine biologist Asha de Vos the Indian Ocean is her second home. "I'm a marine biologist with a special interest in marine mammal behaviour and conservation particularly in Sri Lanka. My short term goal is to do a PhD on blue whales," says Asha's LinkedIN social network profile. Blue Whales are the true giants of the Earth weighing around 200 tons and growing over 100 ft. Studying them in the open oceans needs real guts as you are exposed to many dangers.
Asha is now in Australia studying for her PhD, but thanks to the internet, I managed to interview her online. "I've wanted to be a marine biologist for a very, very long time - so long that I cannot remember when the fire was initially ignited. I've always had a deep respect for the ocean and its changing character...and mostly, its elusiveness," Asha says.
Asha has always been a water baby. She took to swimming at the age of three and hasn't stopped since. She represented her school, Ladies' College, in both swimming and waterpolo and went on to become the captain of both teams.
"It was at the University of St. Andrews in Scotland, where I did my undergraduate studies that my fascination with marine mammals was solidified," she says.
Asha specialized in marine and environmental biology at St. Andrews which is considered one of the leading institutions in marine mammal science in the world. This she followed up with a more general research technique based Masters at the University of Oxford. During her days as a gypsy research assistant in New Zealand, she studied the endemic Hector's Dolphins and often body surfed with them. She also got the chance to sail around the Maldives and Sri Lanka aboard the R/V Odyssey – thanks to her sheer persistence.
Asha's dream was always to become an adventurer-scientist and she feels she is heading in the right direction. Her passion for her work is overwhelming- "my hobby is my job and my job my hobby," she quips.
"If you want something, no matter what aspect of your life it involves, it is important to know that everything is achievable, with an equal portion of hard work of course. If it is your lifelong dream you will find the strength within you that will allow you to work as hard as you need to get to where you want to be. Needless to say you will encounter many obstacles along the way but these will only make you stronger and more focused towards your goal," she says.
Asha has had many magical experiences in the ocean. Snorkelling with about 200 manta rays at Hanifaru Bay in the Maldives and swimming with a Whale Shark – the biggest fish in the world at the same spot are just two of the many she can detail. Encountering a group of 27 Sperm whales logging at the surface and seeing six Blue whales in a single visual area also remain some of her unforgettable memories. Another amazing experience was on a recent night dive where a manta ray appeared out of nowhere and danced above Asha and her fellow divers. "We followed it with our torches and I felt like I was at a performance titled 'the dance of the manta' – I could even hear the orchestra playing!" she says. Asha also reveres and revels in the aesthetic side of these elusive ocean creatures.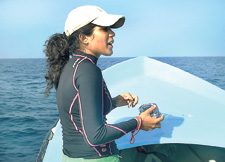 Pix by Nishan Perera
Some experiences are more daunting. Years ago while doing some research off Sri Lanka, she had to jump into the ocean to collect a whale's poo sample (for analysis). The whale was so close she glimpsed its tail propelling through the water.
"That was the first time I realized the immensity of the strength of this creature and how lucky I was not to be knocked unconscious," Asha recalls, cautioning all those whale-watchers who want to get close to these giants to remember how unpredictable nature can be and how important it is for us not to try to disrupt the behaviours of these animals unnecessarily.
So it is indeed a job with challenges of its own. "Challenges make it all the more interesting and worthwhile! There are women who have contributed a great deal to the field of marine biology and I hope I can do my part too," she says. Asha also talks of the need to stay strong and keep working hard. She recalls returning to Sri Lanka after her Masters as a fresh-faced graduate with big ideas. "There were so many instances when people wouldn't take me seriously because I was a 'young' 'girl' – little did they know that that was precisely what spurred me on! I don't believe in giving up and hurdles make it all the more interesting – they make you think outside the box.
As a female, I think it takes more patience as you try to carve out your niche and 'prove' yourself but if you work hard enough, at some point you will turn heads!"
Asha says her mother has been the biggest force encouraging her to be independent and have her own career. "My mum always encouraged me to stand on my own two feet."
Both her parents and her brother are always supportive which she says is like having her own personal fan club. Her favourite part about the work she does, is sharing all her exciting adventures with her family when she gets home.
Though constantly on the go, Asha considers herself 'well domesticated'. "Of course I cook! It's a survival tactic having lived on my own many years (and presently also living away from home!) I love to bake most of all! I think it's partly because I find baking more challenging than cooking with more chances for things to go wrong! Not only am I hydrophilic, I'm also food-o-philic (if there is such a thing!) and am particularly fond of my mum's chicken pilau and vegetarian pizzas," she adds.