The fifth debating championship of the Faculty of Law, Sri Lanka Schools' Debating Championship was held recently at the University of Colombo's Senate Hall of the College House. This year marked the highest number of participants at this event which is also the biggest trilingual inter-school debating competition.
Since its inception in 2006, it has brought students together from all corners of the island into one debating arena. The competition incorporates the Asian Parliamentary style of debating where each team comprises of three members. Each team gets twenty minutes to prepare on the given topic and the side proposition or the government as it is known, possesses the discretion to define the motion and lay out the debate.

English Medium Finals Wesley vs Royal
The Sinhala medium debates had thirteen teams participating from various parts of the country, including Matara, Galle and Kurunegala while the semi-finalists were Museus College, Isipathana College, Mahanama College and Ananada College.
The Tamil medium debates which unfolded parallel to the English medium had twenty-three schools where 25 teams ranging from Jaffna, Potuvil, Kalmunai, Batticaloa, Trincomalee and Kandy participated. The semi-finalists were Jaffna Hindu College, Wijerathnam Hindu Central College Negombo, Nasriya Central College Chilaw, St.Michael College Jaffna.
A significant feature of this year's championship was that nearly a hundred teams took part. The English medium debates included students from Colombo, Matara, Kurunegala and Kalmunai. The semi-finalistss being Wesley College, Royal College, St.Josephs and S. Thomas' College.
It certainly was an evening devoted for debate and dialogue. The grand finale of the competition was attended by chief guest J.C Weliamuna, Executive Director of Transparency International, Sri Lanka and staff of the Faculty of law. Wesley College who were unbeaten throughout the tournament emerged as champions in the English medium, after a unanimous decision of the panel of judges where they argued ardently against the topic 'Utilitarianism should not be allowed to justify Human Rights violations.'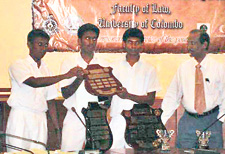 Winners of the Tamil medium competition
However, it was St.Michael College of Jaffna that took the champion's trophy in the Tamil medium after successfully defeating Nasriya Central College in their final encounter, the debate for which centred on abolishing of the Executive Presidency. Mahanama College won the Champions title in the Sinhala medium debating against Ananda College.
While V.R.Ladduwahetty of St.Thomas' College, K.A.P.M.Karunathranthna of Ananda College and S.S.Priya Dharshani of Nasriya Central College were judged as the best speakers of the championship in the English, Sinhala and Tamil medium debates respectively.
For participants the championships are just the tip of what is in store. The Debaters Council of Sri Lanka, together with the Moot Court and Debating Society of the Faculty of Law select the best participants in the English medium category, who are then trained further through a series of workshops in view of harnessing their skills towards next year's World Schools' Debating championships.