An international artistic collaboration between Indonesia, Sri Lanka and Mexico, 'Spirit of Nature' is a contemporary shadow-puppet drama - a fusion of sounds, forms, light and movement inherent in the world-renowned ancient art of Indonesian Wayang Kulit (shadow puppetry) created by young Lankan visual artist Kosala Priyam Kumara.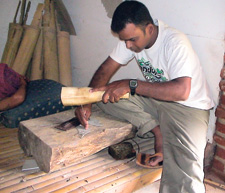 Priyam Kumara
The drama narrates the interdependence of nature and humans through a journey of shadow puppets across three continents and uses the visceral power of this timeless art to proclaim the urgency of protecting our natural environment.
Priyam Kumara's passion for puppet theatre earned him a prestigious Darmasiswa Scholarship in 2009 by the Department of Education, Indonesia - granted to foreign artists for residencies in artistic institutions in Indonesia to learn local culture, arts and language.
Collaborating with his fellow artists in STSI Bandung - a leading arts institute in Bandung - Priyam Kumara has created this performance focusing on infusing modern multimedia, lights and international music with the ancient tradition of 2D hide puppets to narrate the importance of environment preservation - a poignant message for Indonesia which is considered to have the largest biodiversity in the world.
The post-modern music for the production which is a combination of traditional Indonesian and Western instruments is composed and directed by Daniel Milan Cabrera, a Mexican composer whose interest in Gamelan - the unique Indonesian traditional instrument of metal pots and gongs - has led to his present journey to Indonesia. Indonesian artists from STSI Bandung complete the musical repertoire.
'Spirit of Nature' will premiere at the Sunan Ambu theatre of STSI Bandung on April 23 with invitations to perform in Semarang and the Bandung International Puppet Festival in June. The programme will include a painting exhibition by Priyam Kumara, concert of traditional Mexican Music by Cabrera, a film based in Mexico by a Japanese artist Yukon (accompanied by an improvisation ensemble of Javanese gamelan, traditional and electronic instruments directed by Cabrera) with the grand finale of 'Spirit of Nature' - a tribute to the late Siri Kumarasinhe, pioneer of puppet theatre in Sri Lanka and father of Priyam Kumara.