Harpos Cafés & Restaurants operator of The Bay Leaf, Park Street Mews, The Commons, Café Che and its own home-grown Harpo's Pizza brand launched its new customer focused website – www.harposonline.com – to bring all these services 'closer to you'.
'We are in a society – fighting for time with more and more people working on line and information is only a 'click' away. We have launched our new website to offer this convenience to you' said Harpo Gooneratne – Managing Director at the launching ceremony.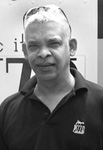 Harpo
So being an innovative, young company it's only timely that the website is re-launched with some exciting features, easy to use, allowing all to access information as quickly as possible. The new website allows customers to choose on-line by browsing the info on each restaurant, the profile, current menus, pricing and decide on their order. It has been designed and developed by 230 interactive.
Special Web deals: All customers accessing the website will be rewarded with Special Web Deals promoted only for the web user accessing the site. These deals will be revised frequently to encourage the user to be part of the e-society of Harpo's Cafes & Restaurants.
Interactive and User Friendly: The website is interactive, user-friendly and secured. It gives customers detailed information, close-up photographs of all the restaurants and the current menus.
Easy access to any preferred site: All the brands are set up under one banner – and the restaurants can be accessed via the parent site – www.harposonline.com or by visiting the website of each individual restaurants, of the customer's preference.
It's also integrated with FB – which is to provide updates on your favorite social network so customers enjoy the updates at the same time. If the customer is not a member of the FB group – one can join the relevant fan page by just clicking on it from harposonline.com page.
Events Calendar: The customer can access all current and future events for al restaurants on the Events Calendar – which notes the F&B promotions and entertainment activities, in one glance.
Feed back comments: In order to provide excellent customer care the website also provides the facility for one to leave a comment, suggestion in the respective restaurant pages.