If I've ever enjoyed listening to stories of the past over a cup of tea it had to be at Hayleys down Dean's Road last week with Penelope Gordon, the great-granddaughter of Charles Pickering Hayley, founder of what is now Hayleys PLC.
When Charles (known fondly as Chas) Hayley boarded the Percy Douglas heading towards Sri Lanka –then Ceylon, the "crown jewel" of the British colonial empire – in 1871, it must have been with a knot in his stomach and worry in his heart about leaving home. It is quite likely he never imagined at the time, the scale of what he would achieve on the island. In 1878 he founded Charles P. Hayley and Company, a small coir trade which would grow into what is now Hayleys PLC, one of Sri Lanka's biggest multinational businesses.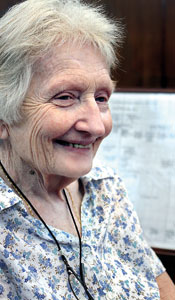 Penelope: Always with a smile.Pic by Nilan Maligaspe
Nearly a century and a half later, as Penelope (aka Pene) Gordon walks in through the Bandaranaike International Airport for the twenty-first time in 15 years, her heart sings "I'm home, I'm home!" What her great-grandfather achieved in Sri Lanka was more than a family legacy and much more than just a booming business, it was the making of a history and a home. "Little did I know what a wonderful seed I was planting on that far away day," he is believed to have said.
Pene Gordon was born in Hatton in 1937 to Ray Beadon and Phyllis Hayley, the granddaughter of Chas Hayley. Her father being a planter meant that Pene's childhood was spent mostly on tea estates in the Nuwara Eliya and the upcountry areas. "I remember going to Hill School" she smiles, adding "and running around the lake." " My father was a rugby player, he played for Dimbulla, as did my brother-in-law as well as my husband. So I was always on the rugby field or the golf course," she laughs, adding that the girls played a lot of tennis and indulged in their father's love of building swimming pools by growing up "in the water".
She remembers even more fondly the time during the Second World War when her father's appointment to the RAF meant they had to move to Colombo before he was transferred to England. "We lived at 22 Colpetty Lane," Pene informs me, with a giggle "I remember that very well." It is difficult not to see an image of a troupe of youngsters screaming and running around ("we were naughty and a little wicked, and our nanny was never allowed to do anything about it!" she confesses) the Galle Face Green as she talks of flying kites every morning and following the kadala man around.
In 1945, an eight-year-old Pene Gordon visited England for the first time. Later Pene spent time in England as an undergraduate, returning to Sri Lanka, her home of 27 years, to marry Trevor Gordon and settle down. Like her mother and younger sister Sally after her, Pene was married in Nuwara Eliya. "My son, Graham, was born in London in 1971 because we happened to be there at the time," she continues her story. A few weeks after though, they returned to Sri Lanka and Trevor took up work in Colombo.
The relatively peaceful and comfortable lifestyle into which the young family had settled over the next three years was suddenly torn apart and in 1974, Pene again found herself in unfamiliar territory both physically and emotionally. "My husband got ill with a nervous breakdown and couldn't be helped here," she explains quietly. "We had to go back to Ireland because that's where he was from. I had never been there before and it was traumatic" she admits, but stresses "we had to go." They struggled in Ireland to pick themselves up and at the completion of a year they were ready to welcome Wendy, Graham's younger sister, into the family.
As Pene watched her family grow and resettle though, a troublesome thought began to take root in her mind. "All of Graham's baby photos showed him here (in Sri Lanka)" Pene shares, "but there was nothing for Wendy. She knew nothing about my family and my growing up out here." Until Wendy was 19, they simply could not afford a trip back to Sri Lanka, but by this time Pene had made up her mind. "I brought them both back, but particularly for Wendy" she shares, adding that "she has loved it ever since."
"This is my heart home, this is my heart home" Pene reiterates, moving on to her return to Sri Lanka in 1994. "We went straight up to Kandy because the Perahera was on," she says and it was like murder with the crowds and everything after 20 whole years! But the next day we travelled up to Nuwara Eliya, and we were all tired so Graham and Wendy were both sleeping, but here I was, shaking them, telling them 'Wake up! Wake up, we're coming home!'".
"Things were different" she admits, adding with a grin that "everything was twenty years older. The fairways at the golf club were smaller and the trees bigger, but not enough had changed to make it not home for me." She recalls appreciatively how staff at the golf club recognized her and spoke to her. Going back to the estate, she recalls, was "just lovely, and it was very emotional." The room that Pene used as a child and all the furniture around the house was "there just the same" she says, smiling shyly that "it was very antiquated, but it was very nice."
"I had been away for 20 years but I knew I couldn't let this go on for another twenty." So Pene Gordon returned home, again, in 1997, the year she turned sixty ("and life begins at sixty!" she laughs) and continues to make the trip to Sri Lanka twice every year since 2001, trying in her little ways to help the people who were part of her history in Sri Lanka.
Despite suffering from diabetes and having had most of her digestive system removed due to health complications last year, Pene is still bubbly and energetic.
She was smiling, smiling as she walked into our meeting after a lunch engagement and she is smiling, smiling as she rushes off next to a coffee engagement, a true testament to the energy and fire that runs in her blood. "My mother (Phyllis) is 102 and still very much alive!" she laughs, and I walk away from the meeting thinking Penelope too, must be ageless.