It is three months and it is hard to believe that Kamani is gone forever. A truly caring friend always willing to offer a helping hand to anyone who needed it, she had a passion for organizing events.
Her door was always open for friends while birthdays, anniversaries and other special events of friends were never forgotten by her. A religious person who observed sil and offered dana to the Maha Sangha regularly, she also taught at the Daham Pasala amidst her busy schedule.
As I go down memory lane I remember how we met the first time. Air Lanka, the national carrier had recruited employees before it began its operations and we were among the hundreds of young recruits. That was three decades ago. We soon got to know each other and became friends.
If my life were a book, many pages would be written by Kamani. She was my bridesmaid and stood by me through the ups and downs in my life, especially when my husband passed away suddenly. She would call, visit me and my children and spend time with us.
I experienced the difficulties of losing a loved one and then a true friend. The emptiness created in my life after her death will never be filled. A caring wife to her husband Panduka and loving mother to her only daughter Piyumi, Kamani always did her best for them.
They were her priorities. Though death has prevented her seeing her daughter passing out as a law graduate, I am sure she is looking down at her from wherever she is now. Kamani was lucky to have four wonderful sisters, who affectionately called her "Chooty" and looked after her like a baby when she fell ill.
Now that Kamani is gone I miss her very much, especially her voice over the telephone almost every morning. I treasure in my mind the image of her and in my heart the memories I have of her.
May she rest in peace!
Thilina Nimalashantha
A small lady with a big heart, loved by thousands of children
Deshabandu Joyce Goonesekera
(Her birth centenary fell on June 19)
A hundred years ago, a very special baby girl was born. I wonder whether her parents and seven siblings had any inkling that Selina Joyce Goonesekera would become a household name in Sri Lanka (then Ceylon), and whose contribution to primary education would earn her the title Deshabandu, conferred by the late President Ranasinghe Premadasa in 1989. She also received an award from the Ministry of Women's Affairs for her success in the field of pre-school education at the International Women's Day celebrations in 1999.
Joyce Goonesekera's love for children and her interest in pre-school instruction led her to take a step most young girls of her day would not have dreamed of: she left the shores of Ceylon and sailed to Adayar, India in the early 1940s to attend a training course conducted by the famous Dr. Maria Montessori. She spent several years with this great lady, whom she admired and revered and with whom she had a very close association.
Dr. Montessori and her son accompanied Joyce when she returned to Ceylon and set up an institution for the training of Montessori teachers at the Good Shepherd Convent, in Kotahena. This was subsequently relocated at St. Bridget's Convent. Today hundreds of "Houses of Children" have opened all around Sri Lanka, ably run by qualified teachers, trained in the AMI methods of teaching, which have proved the best foundation any child can receive in preparation for a primary and secondary education – all thanks to the initial steps taken by Deshabandu Joyce Goonesekera.
Ms. Goonesekera herself started AMI Houses of Children in Galle and Colombo, which have been operating for about six decades. This tiny lady with a heart of gold was loved by the thousands of pupils (and first, second and even third generations), who have passed through her portals of education.
I am personally indebted to Aunty Joyce. I first met this wonderful lady in 1989, through a mutual friend, when I took my daughter Amanda (Mandy), just under three years at the time, to be admitted to her school at Charles Circus, adjoining her home. I was working and there was no one to look after my little girl until I finished work. Aunty Joyce invited Mandy to stay with her after school until I finished work. She would not accept payment for this service.
Mandy received a lot of love and attention under the watchful eye and caring wing of Aunty Joyce. Aunty Joyce was another grandmother to Mandy, and her own son Sisira was the "big Aiya" Mandy would look out for.
When it was time for Mandy to leave the Montessori and attend "big school" – Methodist College – Aunty Joyce insisted Mandy continue coming to No. 7, Charles Circus after school and staying till evening. This practice continued right through Mandy's schooling at Methodist College, up to her A/Levels. Aunty Joyce's home became her second home.
Aunty Joyce took great pride in her achievements, her association with Dr. Maria Montessori, her education at Southland's College, Galle and Methodist College, Colombo 3, her religion, and most of all her son, Sisira, and his young family.
She was a small lady with a big heart and one could not help but love her. She passed away peacefully at her home in Kollupitiya on Monday, November 3, 2003 at the age of 92.
Aunty Joyce's advice to all parents and teachers were the words of her mentor, Dr. Montessori: "Give to the child freedom of expression, help him to reveal himself. Be humble with the little ones; there is a whole world in their souls which they cannot express, but it is a world that can help you understand the movements of their spirit and that can also help you, adults, to understand each other."
Sandra Cadiramen
Never will we forget the happy days
Pearl Navaratnam
P art of your life was spent for us, Ammah,
E ach night and day you prayed for us;
A lthough you are not with us, your love remains.
R anji, Ranjan, Nayanthie, Jayanthie and Kanthie –
L ast but not least, Mama's golden boy, Niran.
N ever will we forget the happy days in our little home.
A lways think of the good done, was your golden rule.
V ery hard-working – stitching, teaching and cooking.
A year has passed, but I cannot forget your sweet face, Ammah.
R unning around, giving a helping hand
A nd taking care of Appah and us;
T enderly and patiently you corrected us.
N ever did you hurt us, your love kept us happy.
A lways on your knees: "The Lord shall guide thee continually" –
M any will miss you, but you are safe in the arms of Jesus.
Daughter Jayanthi David
His sheer personality dominated any situation
M. Rajendra
(Former Secretary to the Ministry of Finance, the Treasury and Head of the Public Service 1968 - 1971. Born July 4, 1911- Died March 10,1991)
He strode the Public Service like a colossus with value led dedication and purpose. His passing away was more than the death of a retired Civil Servant. It symbolises the closing period of an important post Independence government institution and ushered in the sunset of a great tradition. Rajendra was all three in one – civil servant, an institution and the symbol of that great tradition.
- Neville Jayaweera, March 24, 1991
In the current global context and today's reality it is difficult to write an appreciation which will adequately describe a man whose life and interests on earth, were so full and diverse. It can be said of him that there was nothing that he touched which he did not adorn.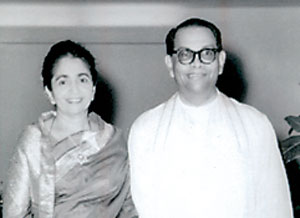 Rajendra and Neela at their daughter's wedding, 1967
He was educated at S. Thomas' College, Mount Lavinia and University College, Colombo where he received an honours degree in History. He joined the Ceylon Civil Service as a cadet on December 12, 1934, in a career that spanned nearly 43 years.He served in Hambantota, Matara, Kandy, Nuwara Eliya as an Assistant Government Agent and in 1949 became a Government Agent to the Eastern Province and in 1951, the Government Agent of the North Central Province.
As Government Agent in the districts, his main interest was to identify and foster sustainable development activities which would benefit the people and help to alleviate poverty. When he was appointed Land Commissioner in 1954 he saw in the Land Development Ordinance an excellent piece of legislation to reinforce social justice through creating, a self-supporting contented peasantry and community organizations. In this he was fortunate to be supported by four times Prime Minister Dudley Senanayake, his close friend from S. Thomas' College days.
As Permanent Secretary Finance, Secretary to the Treasury and Member of the Monetary Board of the Central Bank he had the opportunity to give full rein to his talents for helping to further the process of an orderly transfer of political power to the people. Whether engaged in policy issues or procedures for effective implementation, his strategy and objectives were quite clear. He had no hesitation in stating his views frankly even to a Minister or Prime Minister if he thought the course of action contemplated may not be in the national interest.
Rajendra had a comprehensive mind, which was able to respond to the complexities and nuances of a situation and acute sensitivity of fundamental values. He wrote and spoke with a great sense of authority and power, yet without causing hurt. He carried himself with a quiet dignity which, inspired awe. He was never belligerent, but by the sheer force of his personality dominated every situation in which he found himself.
He never demanded respect, but through that indefinable something in his personality that is generally referred to as charisma, always commanded it by his very presence. In a service where hierarchy and seniority were important, he was never too busy to find time for imparting his value orientation to his colleagues. Fortunately a few junior colleagues like Neville Jayaweera, Sam Wijesinha, Shelton Wanasinghe, C. Mylvaganam, Bradman Weerakoon, Godfrey Goonetilake and M.D.D. Pieris are still around to articulate his philosophy of administration — Discipline, Integrity, Efficiency and Loyalty to the government in power.
When M.D.D. Pieris, as Assistant Secretary to the Prime Minister's Office under Bradman Weerakoon, went to see Rajendra, he advised him, "Civil Servants should never ever compromise their intellectual integrity whatever the consequences. Whatever the government in power, after giving them what you think is correct advice, whatever decision they make, you must carry out with total commitment, as long as it does not compromise your values and integrity. An administrator's role was to advise the political bosses according to the truth, and never give advice merely to please them, however costly it might prove to do otherwise... There was a fundamental difference between an administrator and a manager. Most Civil Servants were excellent administrators. Not all of them were good managers".
Pieris then goes on to say "Rajendra was an Icon to all of us young Civil Servants".
Rajendra was more than a first class administrator. He was a deeply compassionate human being. Although he showed an austere exterior, he was actually a deeply humane person to whom one could go with problems, even of a very personal nature. He had stature, moral stature. He had a sufficient sense of inner worth not to have to claim rank or position to enforce his will. He could apologise to his juniors and subordinates, and do so with grace and without loss of respect.
Rajendra's family were from Vaddukottai, Jaffna. But the parents migrated to Malaysia. Rajendra, his brother Queens Counsel and former Minister of Justice M. Thiruchelvam and sister returned for their education to Colombo. Rajendra married Neela Wignaraja, daughter of Dr. G. Wignaraja and sister of Deshamanya Dr. Ponna Wignaraja and Sathi Wignaraja.
Their three children Malathi, Jayantha and Ajita with their families are now settled in the United States.
An old friend
The studious sister who was full of fun
Rahila Izzadeen
This is in fond memory of my beloved sister Rahila Izzadeen, who passed away in Canada on July 13 last year, at St. Michael's Hospital, Toronto.
We were three sisters, born in the Eastern Province in Sainthamaruthu, Kalmunai. Our childhood was a happy one, with carefree days and daily outings in the evenings to the beach. Our father was a busy person, being a doctor, and his relaxation was time spent with his children. We were enrolled at St. Agnes Carmel Convent in Kalmunai, and we went to and from school by buggy cart.
After Grade V, we were boarded at the prestigious St. Vincent Girls' High School. The Principal was Gladys Croft, from England, and the Vice-Principal Miss Padman from India. Sports were under Miss Canagaratnam.
I was the oldest of the three sisters, then came Rahila and Razeena. Rahilla was the most studious of the three. Even during the holidays she would be with her books, reading all the time. Razeena was full of fun and on holidays she would cycle all around. In the good old days, even in the village, there were no restrictions. I was interested in gardening, writing and reading. My sisters and I have had happy marriages, our spouses from outside our district, something that was unheard of those days.
I married M. L. M. Aboosally, who managed his family's tea estate in Balangoda; Rahila married O. L. Izzadeen, from Balantota Estate, Nawalapitiya, and Razeena married lawyer A. L. M. Junaideen, from Balangoda.
Although we sisters married partners from outside our district and moved to far-off places, we kept in close touch, spending weekends at each other's homes during our children's school holidays.
Education played an important part in our lives. All our children were educated and are doing well in the fields and professions of their choice. Most of our children have moved to other parts of the world.
Rahila lived in Toronto with her daughters, with occasional visits to Sri Lanka to see us. Our happiness at seeing each other and being together is gone, but the memories of those happy times will always remain.
My beloved sister will always be with us, her sisters, and our older brother Saleem, the ones left behind.
May Allah grant my sister eternal peace.
Salma Aboosally