No, dears, it wasn't. Not the spirit of society as much as the spirit of cricket. But it might as well have been. Because although our redoubtable sporting skipper said he would take the opportunity to enlighten his lords, ladies, and gentlemen about the state of the game, it was more the state of his nation on which some light was shed. And what a mee maessa's mess it has made…
For those of you who came in late, let us brief you by beginning at the beginning (as the Red Queen said to Alice in Wonderland). No, no, it wasn't Alice at all; but it might as well have been. Kumar Sangakkara being invited to deliver the prestigious Colin Cowdrey Lecture – at Lord's, at that – had some of the Carolingian Wonderland quality about it. Only difference is that this rabbit hole goes much deeper.
The annual Colin Cowdrey Lecture is delivered by a cricketer on cricket. Despite being an otherwise creative bunch, the gentlemen who are invited to propose a toast on such a staid occasion prefer to stick to safe ground. Such as technology, winning trends, making friends, and influencing people in the sporting arenas of the world. Our Sanga – as just about everybody except the Red Queen is calling him – won the toss and opted to bat on the sticky wicket of corruption in cricket, to his credit. And that's not just a figure of speech. People back in the sunny island-nation that passes for "this other Eden, this demi-paradise" are conflating captaining the country at cricket in the past with skippering the nation in the most dangerous game in the future. But least said soonest mended. The boy's already facing too much music at the moment to be truly interested in aspiring to such high office without risking more fireworks from the usual suspects.
Sanga could have padded the ball around for singles and played around the grounds with such subject matter as crooked players, corrupt boards of control, and international cabals. These have turned the gentleman's game rotten sooner than you can say "Hansie Cronje kicked the bucket because of this" in Afrikaans. But our lad in the middle seized the day with both gloved hands. And with an athletic wicketkeeper's dexterity, he had all the wicked of the world in his bright-eyed bushy-tailed universe caught behind for a duck. And even when it came to tricky issues in the land we all live in and love, our man at the crease was not stumped. With a grace that charmed his audience enough to give him a standing ovation at the end, this blue-eyed boy of the crowds at home and critics abroad alike dished out the gen like it was the apocalypse already.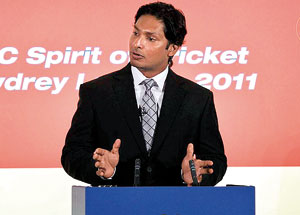 The longer this man's shadow, the nearer to close of play… More's the pity, if so – with so few players willing and able to 'speak truth to power' these days…
He waxed eloquent about Sri Lanka's standard 2,500-year-old history hagiography; but let's not bowl him a bouncer for introducing that hoary chestnut into the attack, shall we? It's where any historian worth his salt would start his innings, and Sanga made good use of the time and space allotted to him to tell a sad and sorry (and in turns glorious and grandiose) tale with all the aplomb of a man who knows he's not going to get a second chance to make a first impression. And to put a cap on his hour-long diatribe on what ails cricket, custom, and country, let us essay a guess that he made more enemies in one day off the pitch than in all his sporting career. It's made tough-minded folks who love land and game proud, if somewhat anxious at what next… because the tender-minded amongst us are bound to feel that their own side had run them out.
Well, you can't make an omelette without breaking eggs. Just ask Humpty Dumpty. For the nonce, Kumar Sangakkara will have to watch out that he doesn't have a great fall at the hands of all the king's men (and likeminded lovers of cricket and country must make sure he isn't referred upstairs for a mandatory out). Wait, that's already happened, hasn't it?
Why else would ministers of the crown state that an inquiry was in order and order it instituted against the uncapped head that instituted this sporting coup de main? For all the fuss and bother that's being made, you'd think Sanga had set off a startling coup d'etat instead! Which might as well be the case, methinks. Such is the state of the nation these days that anyone speaking truth to power is not a patriot, but a traitor. And more's the pity. Wonder if any Sri Lankan will be asked again, or allowed? That's a coup de grace worth yearning for.