People throw them away but 32-year-old Indika Ranasinghe goes around Kegalle and Mawanella towns, picking them up and bringing them back to the Mangalagama walauwwe he has leased out by the Kegalle-Kandy Road.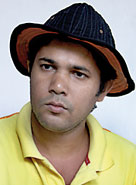 Indika:Conservator turned innovator
Indika is no garbage collector and the walauwwe is not a dump. He is a conservator-turned-innovator who collects discarded paper, books, magazines etc and turns out recycled paper, file covers, pen and pencil holders, small notebooks et al.
Gradually, he is being seen as an entrepreneur attempting to do good and the calls come from offices such as the Kegalle District Secretariat to come pick up the waste material.
Discarded papers are not the only things he collects. There are 22 domesticated elephants in the Kegalle district, not counting all those at the Pinnawela elephant orphanage, says Indika, pointing out that kitul is given to them as food. The thick kitul trunk, however, is dumped as garbage. Visikkaranewa, he says simply.
These too he collects on his rounds and makes into deshiya visithuru baanda…….well-turned out stupas, pun kalas and even floor tiles.
Earlier back in Colombo, he was working as a graphics designer but the attraction was more towards all that was natural. With his wife's blessings, he took a leap of faith in his own ability to dabble in eco-friendly stuff. Now his tiny organization has six people and they turn out their wares at the walauwwe which is a workshop cum showroom.
"People stop when they see the name-board and browse around the shop picking up hand-made paper or even a notebook. We also undertake regular orders for UN agencies including the International Labour Organization," says Indika, explaining that their monthly income varies but life is manageable.
In more recent times, seeing the plight of the lacquer (laksha) ware makers, Indika has taken up the mission of reviving this dying craft. He has brought a father-son duo from remote Hapuvida in the Matale district to continue the laksha shilpiya.
Most of the families engaging in this traditional craft are losing out because the older generation is dying away and the younger generation is not interested in following it because marketing the product is difficult and they cannot survive on what they make, he says.
So Indika is not only trying to stop environmental pollution by recycling throwaways but also protecting a traditional craft from becoming extinct.