Standing under infinite canopies of leafy branches in acres of gardens that remain one of the most unique features of the dry zone locale of Cinnamon Lodge Habarana, there is a reigning aura of peace and tranquility. But if one digs into the origins of this property maybe 50 years ago, what actually stood barren and dry, stripped of any green vegetation, was an abandoned chena cultivation.
"It is hard to imagine isn't it, that this land, where as far as the eye can see now is completely blanketed under thousands of trees, was once bleak, stark and desolate, not to mention completely infertile due to the slash-and-burn agricultural practices used at that time?" asks architect Ismeth Raheem, who together with architect Pheroze Choksy, undertook to transform the abandoned chena into a peaceful retreat.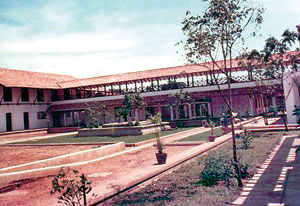 Then (above) and now (below): From bare land to leafy retreat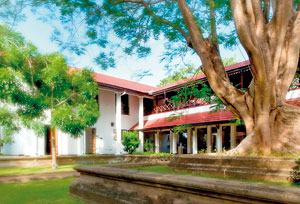 "There are some features that are truly unique in this property," Raheem explains. "Firstly, there are no lush forests in the dry zone but we created one; secondly due to re-foresting this area, we introduced numerous fauna and flora which would otherwise have disappeared from the face of this land a long time ago; thirdly, the fact that an actual forest was created on 27 acres of land that was barren, is quite an occurrence. This to me, is true environmental preservation and a real practical facet of sustainable tourism."
The five-star Cinnamon Lodge in Habarana, just 107 miles from Colombo, is replete with every luxury but yet remains very much an eco-friendly resort. "We don't compromise on the eco-aspects," says Jayantissa Kehelpannala, Sector Head for the Sri Lankan Resorts Sector of the John Keells Hotels Group. "Given that our roots literally revert to being a property that was raised up from an abandoned chena cultivation into a man-made forest that has over the years inveigled small wild life, endemic species of birds, insects and butterfly and even water life in the surrounding Habarana tank, Cinnamon Lodge is a one of a kind resort here in Sri Lanka.
Where else in this country would you find tourism development actually reversing the norm? Instead of cutting down trees, we actually planted them!"
The original site was identified by John Keells as having immense potential, even though what met the eye at that stage was wasteland. With Habarana strategically placed within the Cultural Triangle of Anuradhapura, Sigiriya and Polonnaruwa augmenting the need for an upmarket property to serve the burgeoning tourism industry, the John Keells' decision to begin the development was timely. Considering that the site also straddled the picturesque sixth century Habarana Reservoir, an important cog in the irrigation network in the dry zone even in this present day added to the potential of the property. And hence, the genesis of the very first suite hotel in Sri Lanka began.
Using the fledgling firm of Architects Choksy and Raheem (who had in the meantime been under the tutelage of Geoffrey Bawa and trained at the Royal Danish Academy in Copenhagen), John Keells tasked them with creating a unique resort. "We birthed a unique design based on a radical layout, not only the fact that it was a suite hotel but also in using the concept of the Ritigala stone pathways and daises as part of the design. But given that Ritigala was a monastery that exuded tranquillity under canopies of leafy branches, we had to replicate this feel in bare chena land," Raheem says.
This was also the period of the massive Mahaweli development, with acres of forest land earmarked for planned flooding to take the project ahead. "The flooding of forests, was a price that has to be paid for development," says Raheem, whose love for nature is showcased in the pen and ink drawings of bird life and flora seen dotting Cinnamon Lodge. "But, what also transpired was the perfect answer to our problem of not having any trees in our replication of Ritigala here in Habarana. We made contact with the Minister in charge and officials of the Mahaweli Development Authority and the Irrigation Department to find out whether we could transplant the trees that were up for destruction – at least some of them. We visited the sites of the damming and selected about 1000 trees of various species from the plains of the Mahaweli River."
And thus began one of the biggest and most challenging trans-location of trees in Sri Lanka, where mature trees, some almost thirty feet tall were root-balled and translocated from about 100 miles away. The skilful root-balling of these trees not only served to reforest an otherwise barren property but also saved valuable trees, some indigenous, from being destroyed.
Now this ecologically upgraded habitat is home to over 1,700 trees, several over one hundred feet in height, while the gardens play host to troupes of monkey, over 190 bird species, twenty small mammals and the occasional herd of elephant who visit the reservoir, complementing the diverse array of invertebrates including butterflies, moths and dragonflies, which has inspired Cinnamon Lodge to moot a Butterfly Garden.
At least 100 species of large trees including Ebony, Dang, Kumbuk, Margosa, Satinwood, Halmilla, Vegang, Palu, Weera, Teak, Suriya and Mara, form the perfect haven for the man-made water gardens and the axially placed brick pathways that link the individual chalets and 200 feet of colonnaded public spaces devoid of doors and windows, which imbue the natural elements of cross wind-flow, morning rays and twilight hues into its unique spaces.
Already, growing its own vegetables, herbs and eggs and being 100% dairy sufficient due to the dedicated farm in the property, the resort manufactures its own honey and compost, recycles its water, runs a bio-gas generator and uses solar collectors. The rudiments of organic farming have been cascaded into the community as well with the adjacent community adding to the harvest from their own home gardens, post technical expertise and knowledge know-how being permeated by the enthusiastic resort team. "We have a very simple philosophy," says Kehelpannala.
"We live on planet that has limited resources, but we have been given the knowledge and talent to preserve and improve on these resources. Just as in the 1980s John Keells supported the architects' idea of reforesting this abandoned chena cultivation to make it an ecological role model that will affirm the real tenets of sustainable environmental conservation, we continue our commitment to make not only the planet healthy, but also to cascade the message that in being eco-friendly, we are assuring future generations of a healthy planet for them to live and thrive in. If each of us does our own part, then we can make a difference. "