When her husband passed away 24 years ago, Soma Edirisinghe faced the challenge of coping with his business ventures. She was totally new to the field yet not afraid to face it. "People thought I might sell the properties so there were many callers with many offers. I answered them, 'if you have any lands and properties, I will buy them.' What I said teasingly at that point became a reality and I managed to expand the businesses," she recalled with a smile.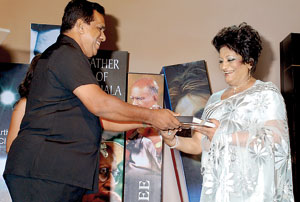 Dayawansha Karunamuni hands over the book to Soma Edirisinghe. Pic by Thilak Seneviratne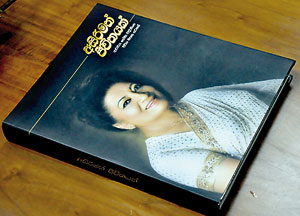 "Later, I thought I must not only do business but engage in social work too. I kept myself occupied in charity work in the afternoons to get over the loneliness I felt at home due to the loss of my husband," she said.
Soma Edirisinghe, who was conferred an honorary doctorate by the Open University of Sri Lanka was speaking to the Sunday Times after the launch of Asirimath Jeewithayak. This biography of 14 chapters takes us on a journey of the life and achievements of this prominent businesswoman and well-known figure in the business and social sector. The book by Dayawansha Karunamuni was launched on July 5 at Water's Edge Battaramulla.
The book records the important events in her life, with special focus on the contributions she has made to the educational, health and social sectors. Starting with her childhood, it goes on to her marriage, the circumstances that brought her into business and her achievements in the field.
Several chapters also highlight the many activities she undertook during her tenure as the first lady governor of the Lions including her contribution to society by way of various projects such as Janasarana, Punarjeewa, the Suwasetha eye hospital and the Sanhinda elders home. How she continued and developed business ventures including hotel projects and her contribution to the film industry makes interesting reading backed by many colour photographs.
According to the writer Dayawansha Karunamuni, what prompted him to write the biography of Dr. Soma Edirisinghe was the fact that he considered her a role model for all women in society. "I came across her 17 years back when I did an article about her – and over the years I saw how she stood up to life's challenges and emerged as a strong personality," Mr. Karunamuni says adding that the biography was completed within two years.
A journalist with over 40 years of experience, Karunamuni has penned some 20 biographies on various prominent figures including President Mahinda Rajapaksa, Sanasa Movement Head Dr. P.A Kiriwandeniya, former President's Secretary K.H.J. Wijedasa and several Buddhist monks. The writer started off his career as a journalist at the Dawasa news paper and has contributed to several women's magazines writing articles about well-known women achievers.
The English translation of the book Asirimath Jeewithayak is by Edwin Ariyadasa. The book was launched to coincide with Ms. Edirisinghe's birthday with First Lady Shiranthi Rajapaksha gracing the occasion as chief guest. The key note address at the launch was delivered by Minister Sarath Amunugama.
Snapshots from the past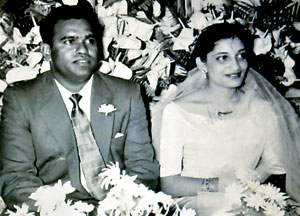 Wedding day
With Rukmani Devi (right) and below a family photograph