There's a little known hotel on the west coast that is a genteel holiday retreat even in the off-season, like now, when the sea is boisterous and the beach sparse. Villa Ranmenika is at Ahungalla, 75 km south of Colombo and inland some 60 m from the Galle Road, with a view of the beach from its gates. Perhaps it is so little known, although it has been open for more than a decade, because it seems exclusive. In a way it is, since it's not on the beach, but its seclusion is what makes it such a wonderful find.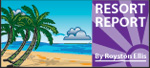 This is not a boutique hotel even though, with only 12 rooms and two suites, and a couple of sarong-clad stewards always on hand, it could be. It is the personal creation of its Swiss lady owner, usually in residence although happy to be behind the scenes.To drive through the chrome-plated gates away from the rush of the Galle Road is to be immediately transported into a garden paradise. What was once a jungle of bushes and weeds has been transformed into a delightful tropical garden, not with artistic finesse like the Bawa brothers' creations, but with a love for the lushness of nature.
The driveway through a plethora of palms and crotons gradually reveals the sparkling blue waters of a huge swimming pool. This pool and the gardens are always immaculately kept. The water looks so inviting; guests have been known to dive in for a glorious relaxing swim in privacy even before unpacking. What beach resort with dozens of guests can offer that luxury?
The swimming pool is slightly kidney shaped with a depth of 2.75m at its deepest; it is 23m long and 13m wide. A tiled bench with Jacuzzi nozzles strenuously blowing bubbles is set against one side. No matter how rough the sea or sticky the air, Villa Ranmenika provides holiday pleasure at any time of the year.
That scourge of hotels, the website www.tripadvisor.com has only three comments in the past four years about Villa Ranmenika, all of them complimentary. One comment, from a walk-in guest and his family who stayed three weeks, remarked: "The gardens at the Ranmenika are beautiful, quiet, and we saw at least 30 species of bird as well as monkeys and monitor lizards…the bedrooms are comfortable, but not luxurious."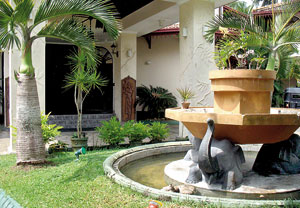 A tropical haven: The exterior of this little known villa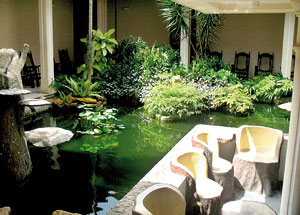 The inner courtyard: Pure fantasy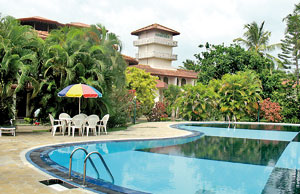 Blue heaven:The slightly kidney-shaped inviting pool
The bedrooms are spread across two floors; some of the ground floor ones open onto their own miniature manicured garden, others have terraces. Every room is equipped with what some visitors regard as essential: satellite television, wi-fi connectivity, telephone, mini-fridge and both air-conditioning and a fan. The bathrooms are super modern with a large shower area.
All the bedroom windows are mirror glass; people can't see in but guests can see out. There are two chairs and a table, but few frills; those are to be found outside. The inner courtyard is pure fantasy: faux rocks and pretend timber, and a pond brimful with plump, leaping red and silver fish. Beside the pond is a discreet sitting area for afternoon tea.
There is a dining room leading off the reception lobby, and that itself leads into banquet hall, popular for well-mannered weddings and private functions. Another guest commented revealingly, "A big plus is that you can take your breakfast at anytime, not constrained like the big hotels. And the service is second to none; nothing is too much trouble. Elfie, the owner, cannot do enough to make your stay a pleasant one as does the staff led by the wonderful Angelo. On arrival my mother's walking stick needed a repair and this was whisked away and fixed."
Selfishly, I have resisted writing about Villa Ranmenika before because I go there often for a snack and a leisurely swim in seclusion in that divine garden pool. I worried that if it becomes too popular, the sense of exclusivity might be lost. But it won't because, naturally, it will only appeal to Sri Lankans and foreigners who cherish a cultured ambience in a classic tropical setting, without lavish boutique hotel extravagance.
There are special rates for Sri Lankans and resident visa holders, beginning at Rs 4,550 for a double, bed and breakfast included; and no extras as that price is nett.
Villa Ranmenika, Galle Road, Ahungalla, tel: 091 2264251; email: ranmenika@sltnet.lk; www.villaranmenika.com