Sri Lanka's premier fashion and lifestyle retailer ODEL this week announced the appointment of international retail sales specialist William R. Pinkston, III, as its Chief Operating Officer (COO).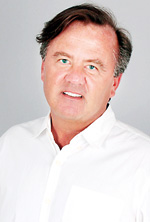 William R. Pinkston
Mr. Pinkston who holds a Bachelor of Science, Business Management degree from the University of Florida, has over 25 years of experience in retail operations in the fashion and entertainment sectors with leading international brands such as Gap Inc., which operates more than 3,000 stores worldwide and J. Crew, a multi-channel retailer with 251 stores in the USA, the Sri Lankan company said.
He has also held key positions in retail management at several other large corporate institutions including Six Flags, a popular chain of theme parks and Gymboree Corporation, a specialty retailer currently operating more than 630 stores in USA and Canada, selling high-quality apparel and accessories for children.
"Mr. Pinkston's vast experience and skills in many aspects of retail operations will be an invaluable asset to ODEL at this juncture," ODEL founder and CEO Otara Gunewardene said in the press release. "His knowledge is what we need as we embark on our next phase of growth."
Mr. Pinkston said ODEL has built a solid foundation and is at an exciting stage in its development. "It has already gained visibility internationally as a dynamic brand and I look forward to playing a role in its evolution."