The Sri Lankan office of Microsoft has launched a local education series aimed at 0its Sharepoint web application platform, stating "SharePoint has become one of the most sought after collaboration technologies in the local industry that has been hindered due to absence of the necessary technology experts."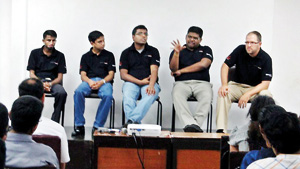 Picture shows a panel discussion at the event.
Called "Sharepoint Saturday" and first held locally on June 11, 2011, at the Informatics Institute of Technology (IIT), this event, according to a Microsoft statement, was an "informal and lively day of sessions conducted by respected SharePoint professionals and Microsoft's Most Valuable Professionals (MVPs) covering a wide variety of SharePoint oriented topics."
The statement further revealed that over 250 people participated in the inaugural "Sharepoint Saturday," including IT professionals and undergraduates, and industry experts such as Michael Noel, Dux Raymond Sy, Prabath Fonseka (head of the Sri Lanka SharePoint Forum), Dinesh Priyankara, Joy Ratnayake, J. Sri Kantha, Shakeer Majeed Khan and Hasanga Abeyaratne. Also noted, this platform is currently available with 20 of Microsoft's local partners.