Genetech Molecular Diagnostics, a pioneer institute in DNA based testing in Sri Lanka, recently received the ISO 15189:2007 accreditation of its laboratory by the Sri Lanka Board of Conformity Assessment (SLAB).
The ISO 15189:2007 certification complements the high quality and reliability maintained in the institute in producing test results over the past decade related to disease diagnostics and DNA fingerprinting in both forensic and parentage testing.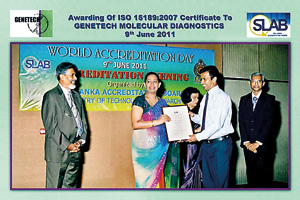 Picture shows Minister of Technology and Research Ms. Pavithra Wanniarachchi handing over the ISO 15189:2007 certificate of accreditation for medical laboratory issued by SLAB to Dr. Dammika B. Senevirathna, Senior Scientist / Technical Manager at Genetech.
The ISO 15189:2007 Medical Laboratories accreditation scheme is based on the conformity of the laboratory facilities, working personnel and procedures to the requirements for maintenance of quality and competence. Disciplines covered at Genetech under ths scheme include forensic DNA typing, parentage analysis, infectious disease diagnostics (i.e. Chikungunya, Dengue, Hepatitis C, Human Papilloma virus, Tuberculosis and Malaria) and chronic granulocyte leukemia detection, the company said.
"Genetech is a multi-faceted institution and Sri Lanka's first biotech company which was founded with the vision of making the benefits of biotechnology accessible to the people of Sri Lanka.
In pursuit of this objective, Genetech has become a pioneer in the field of molecular life sciences in Sri Lanka and has established itself as a very progressive and respected private scientific facility in the country. It is also a pioneer in the use of DNA typing for human identification and parentage testing and it is the major provider of this technology to the medico-legal community in the country.
Although privately owned and operated, Genetech provides DNA evidence to the government of Sri Lanka through law enforcement agencies. Genetech's reputation for integrity and reliability has made it the mainstay of forensic DNA testing in the country. Over 3000 cases of disputed parentage and over 1400 criminal cases have had the advantage of DNA evidence through Genetech," the statement said.
Genetech was founded by late Dr. Maya B. Gunasekera in 2002 who was a Senior Lecturer in Biochemistry and Molecular Biology at the University of Colombo. After her untimely death in 2006, her husband Dhammika N Gunasekera took over the responsibility of carrying out the invaluable service rendered through the institution by leading its highly qualified staff.