Sri Lanka's eastern coastal resort Arugam Bay plays host for the second consecutive year, to the 'SriLankan Pro Surf 2011' - one of the world's top-rated surfing events, as part of SriLankan Airlines' multi-pronged strategy to position the island as one of the world's most sought after travel and sporting destinations, the airline said.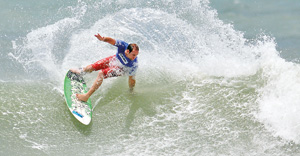 Surfers at Arugam Bay
With two principal events – the LongBoard Men's Championship Event and the ShortBoard Women's World Qualifying Series Event - the 'SriLankan Airlines Pro 2011' tournament will attract top stars of the surfing world to Arugam Bay from 30th August to 4th September, with over a 100 competitors from around the world. The women's event is also a Six Star World Qualifier and will be held in Sri Lanka for the first time with nearly 60 participants from Australia, New Zealand, Spain, Hawaii, South Africa, Peru, Chile, Japan, UK, Indonesia and France, billed to ride the waves off Sri Lanka's east coast, the airline statement added.
Organized by the Australian Surf Professional ASP, the SriLankan Airlines Pro 2011 is an important event for professional surfers. It has the highest rating of 'Six Stars' on the Association of Surfing Professionals (ASP) World Tour by which competitors qualify to contest for the World Title. 'SriLankan Airlines Pro 2011' will showcase the picturesque southeast resort of Arugam Bay aka A-Bay, one of the most beautiful beaches in the world, positioning it as a destination for all types of beach lovers, and not just for surfers. It will also bring high exposure to Sri Lanka as a leisure island.
SriLankan Airlines' Chairman, Nishantha Wickremasinghe said, "Sri Lanka is firmly back on the world travel map and has proved its ability to host mega events such as this. Having been associated with the sport of surfing for nearly a decade, SriLankan Airlines is happy to bring this top level competition to our shores once again, thus showcasing both Sri Lanka as a holiday destination and the stunning A-Bay in particular."