At least one company is gearing to take its first group of European tourists around Jaffna but it is likely the charm of the North will be ready only in about two years time. Last week the government announced that Ministry of Defence permission is no longer required for foreigners and Sri Lankans with foreign passports to travel to the North, relaxing a security measure after more than two decades.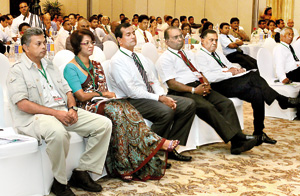 Tourism and envionmental experts at a recent conference on sustainable tourism. Pic by M. A. Pushpa Kumara
One top government official recently commented to the Business Times that the residents of Jaffna might not be still ready to attract its international travellers as they were still lacking in the right type of hotels.
However, the industry believes they need to brace themselves for the new arrivals that will be keen to visit the war-torn North of the country that was restricted for travel in the past. Some top hotel chains are looking at setting up hotels in Jaffna while Jetwing is already going ahead with plans to set up a 3-star facility in the next 18 months.
Tour operators said they are marketing to bring down the first group by the beginning of next year. In this respect they had already had discussions with a German company Roter Tours and are planning to bring down one of the first group of tourists in January.
Sri Lanka Association of Inbound Tour Operators President Nilmin Nanayakkara said they had been anticipating the move to lift travel restrictions for foreigners, from the government. Industry sources said the relaxation, at the moment, applies to Jaffna while some areas like Mullaitivu are still out-of-bounds for foreigners. "You can go by road on the A9 to Jaffna but cannot go to Mullaitivu," one source said.
Would-be travellers will most likely fly from the Ratmalana Airport to Jaffna where they would stay for a couple of nights and then visit some of the historic sights of the city and other key locations in the North.
Currently tour agencies are finalizing their brochures to market in other countries to attract the discerning travelers.
August to December is likely to witness a number of tourists coming in who might form mainly the Sri Lanka expatriates that will be down to participate in the Nallur Kovil festival. There is strong feeling the ferry service might commence from South India to Jaffna that could result in a big influx of tourists to the country, Mr Nanayakkara said.
Tour agencies operating in Jaffna welcomed the relaxation. However some agencies are not too conversant in English (some speak better in Sinhala) and said they would need to spruce up language skills to greet its international visitors.
Manager of Browns Tours, Jaffna Rada Palakidnar told the Business Times over the telephone from Jaffna that they were readying to welcome the new visitors to the North that is likely to commence after January next year.
Hotels with air-conditioning facilities were available with at least a couple of places likely to be able to provide sufficient accommodation for these travellers. Mr. Palakidnar said they expected the city to be geared in another two years' time and believed they would become equally attractive as the south of the country.
With fast improvements taking place, he noted "foreigners will get to see how it was" referring to Jaffna's present status as city coming out from a war era. However, he noted the staff in Jjaffna were not adequately trained to cater to the services expected of them from international visitors.
Another staffer from Nation Popular Travels said while there is accommodation available they believed it is possible to make arrangements. The Sri Lankan expatriates are still the key visitors to the North that is right now awaiting their arrival in August that is tipped to ensure Jaffna become very busy.
Jaffna has around 5-6 hotels with room strength ranging from 10 to 50 which also provide star-class facilities and some come with swimming pools. But the bulk of the accommodation is small guest houses with limited facilities.
Govt. ignoring overcrowding at national parks?
While a panel of speakers voiced concern over overcrowding at wildlife parks at the recently concluded Sustainable Biodiversity conference, authorities however opened up a can of worms with new proposals to establish three more entrances to the Wilpattu national park.
Wildlife Photographer Rukshan Jayawardena said the Sinharaja was facing the problem of overcrowding while Yala is experiencing heavy vehicular traffic resulting in noise pollution within the precincts of the natural habitats of the wild animals.
"If we are not practically prepared to mitigate the impact of numbers touring these parks then they should not come," he said. It was pointed out that this sort of unruly behaviour robs the visitor experience of the essence of being in the wilderness due to jeep driver competitiveness, use of mobile phones and traffic jams at sightings.
The carrying capacities have to be worked out and daily limits imposed at the national parks, Mr. Jayawardena said. Environmental expert Manori Gunawardena said tourism should start looking at having their facilities outside the protected areas.
She said tourism many not be a panacea (for all ills) but it can be part of the solution with contribution from the private sector to sustaining the biodiversity. Ms. Gunawardena pointed out that while tourism should look beyond protected area boundaries and develop vast tracts of other lands, they must be able to hold onto the land bordering wildlife.
However, Government official Mahinda Ratnayaka speaking on the occasion said they were planning on opening up three more entrances to the Wilpattu national park. This raised a number of questions at the forum to which Mr. Ratnayaka said it was needed to ensure that visitors to the park could also enter when traveling along the Puttlam-Mannar road. Currently the only entrance available is on from the Puttlam-Ampara road.
Further, he noted during this presentation they were planning on constructing a dormitory to accommodate 40 persons stating this would allow for low spenders to come in their numbers.
However, he noted that these persons will be strictly requested to adhere to the rules of the place in maintaining silence.
Irresponsible hoteliers could face charges
New guidelines for hotel classification
Sri Lanka Tourism is drawing up guidelines for hotels and is readying to take to court those acting irresponsibly in tourism development. Authorities will in the future file cases against those establishments found to be not adhering to the maintenance of required standards, Sri Lanka Tourism Development Authority Quality Assurance Director Upali Ratnayaka said while addressing the two-day Sustainable Biodiversity conference at the Cinnamon Lakeside on the topic of "Sustainable Biodiversity and its Economic Value."in Colombo this week.
This will be effected in the worst case scenario should the establishments fail to conform to standards after being adviced to take necessary remedial measures, he said adding that however, initially they would withdraw the liquor licence from them.Consultants are currently working on the drafting of the guidelines that is likely to be completed within two months, he told the Business Times. The present gazette is 15 years old and needs to be replaced, it was pointed out.
He said that they have now worked out the categorization of upto 19 types of hotels. According to the new guidelines Sri Lanka Tourism will ensure that the minimum requirements are available when marketing for international tourists based on which they will be given marks taking into account the facilities to scale them.
Another aspect is the assessment of employee skills and training required to be recruited for employment in tourist establishments. It was pointed out that for the classification of accommodations the minimum qualification is required even in terms of employee skills.
The official noted that most working in the tourism industry are not adequately skilled and observed that in the face of the growing demand this is critical. Further, the ambience of the establishment like the environment, landscape, neatness and total outlook should be attractive, he said.
Some of the shortcomings already identified have been the lack of staff facilities, lack of cleanliness of kitchens with the main problems observed in the restaurants and guest houses. Speaking further on government plans he noted that they intend to have a long term plan for the development of new tourist routes in a bid to ensure tourists will have a place to stay in the different parts of the country wherever they travel.
Tourists with a keen interest in the biodiversity of the country are considered to be seasonal visitors and overheads and quality maintenance costs are very high, he said. In this respect it is necessary to sustain the required overall profitability with a return on investment.