Sri Lanka's Dialog Axiata PLC and Multinet Pakistan (Pvt) Ltd have entered into partnership to serve the global connectivity requirements of Sri Lankan and Pakistani companies. The goal is to leverage the strengths of both networks and deliver customized solutions to corporate customers doing business bilaterally, according to a Dialog statement.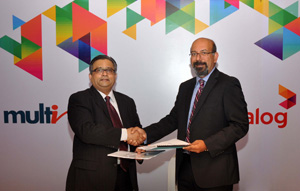 Picture shows Rashid Shafi, Senior Executive Vice President & CSO, Multinet Pakistan (left) with Suresh Sidhu, Dialog Axiata's Chief Officer-Enterprise and Global Business at the agreement signing.
"This collaboration will provide both Sri Lankan and Pakistani corporate customers access to a wide portfolio of international data, voice and video applications, in addition to value-added and managed services. This seamless and secure connectivity is ideal for companies that wish to minimize travel and do conferencing on-demand whilst simultaneously running other voice and data services on the same link," the statement added.
Dialog has built a robust international network, having acquired capacity on all submarine fiber optic cables landing in the country, which delivers optimum cable and landing station diversity out of Sri Lanka to customers ensuring minimum service disruption at all times.
Commenting on the company's partnership with Multinet, Suresh Sidhu, Dialog Axiata's Chief Officer-Enterprise and Global Business, said, "Together, we aim to offer Pakistani and international companies a new, more cost effective way to connect with each other. This will also benefit Sri Lankan companies with operations in Pakistan."
Rashid Shafi, Senior Executive Vice President & CSO, Multinet Pakistan, remarked: "We look forward to strengthening further, the relationship between the two countries through the deployment of high-quality, reliable solutions that support mission-critical communication needs of our customers"