The Decision Review system (DRS) which was suspected to be only for the three Tests during the Australian series now will be on for the entire series barring the two T-20 games.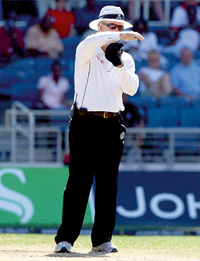 The SLC Interim Committee chairman Upali Dharmadasa explaining maters to the Sunday Times said "Earlier there was confusion as to when the DRS was going to be mandatory. However we learned that it had come into effect immediately after the last ICC meeting in Hong Kong.
"Then we faced a problem where all available equipment had been used up by the England-India series which is also in progress now with the two companies who have the wherewithal to provide this facility – Hawkeye Innovations and Virtual eye."
However the Sunday Times learned that the ICC has permitted for a country not to have the facility only on two issues. The first excuse being financial constraints and the other – non availability of equipment. However both these issues did not apply to Sri Lanka and the ICC also got involved in the matter and the Lankan authorities opted for the available ball tracking system and the audio tracking system for this series and will go with Hawkeye Innovations. However the hot-spot – another mandatory criteria will not be a feature during this series due to non availability of equipment.
In another move with the huge expense bill that the Sri Lanka Cricket is facing partly due to the excess staff problem the SLC has begun an employee assessment programme. When the SLC Interim Committee chairman inquired about this said "This is a usual thing. Most of the companies go through an employee assessment system once in every 2-3 years. However what is unique about this programme is that the person who is doing this is a professional, but is carrying it out on a voluntary basis for the sake of the game of cricket in Sri Lanka and I am proud to say that there are many more professionals who are willing to help us in various other fields where help is needed."