Sri Lanka cricket achieved international recognition due to the selfless service rendered by our past cricketers. Today some of them - administrators and players - are fighting a battle for survival.
SLC should take note of this and help them even with a tear drop so that they can live in dignity. The Sunday Times went on a fact finding mission to expose their plights. On June 19, 2011 – the headline screamed: "Do not forget those who ploughed the Field on Sport".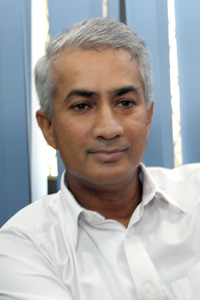 Sidat Wettimuny
This gave much food for thought to the hierarchy of the SLC Interim committee headed by former bowling all-rounder D.S. Silva who came into the limelight through a bitter struggle. He promised this scribe that he will strive to take remedial measures. Before they could act, the Interim Committee was dissolved. A new committee was appointed, headed by Upali Dharmadasa and former Sri Lanka opener Sidat Wettimuny was one of its members. Sidat came up in life the hard way… on and off the field. It was the legendary coach Bertie Wijesinghe who moulded him to play a straight bat. He said, "I have not forgotten Mr. Wijesinghe or my parents and those who helped me to make the slippery climb."
Did you read the ST exposure on the plight of past cricketers? , I asked from Sidat. Sidat replied, "Yes, I have taken note of it, but the SLC coffers are empty. It is a daunting task to put it back on rails. The first committee meeting held on Poya Day July 14, lasted for over 8 hours. Do you get the message? I am tired even to speak to you. All are answerable for this sad state of affairs in cricket or any other sport. These sports must be managed by those who have the game and professional skills and should put the country before self, including present players. The past cannot be forgotten. They never enjoyed contracts no had sponsorship packages, not even past cricketers associations."
Today some of them are made to grope in the dark for survival. It's the River of no Return to them. Past stalwarts must be made to live with honour and die with dignity.
At present the SLC is financially in the doldrums. They find it hard to maintain the venues and to pay the salaries to its employees. Helping some of the deserving past cricketers is a distant dream. By the time the SLC gains financial stability some of them may have crossed the great divide. Organize an International benefit match in their name with neighbouring India, Paksitan, Australia, S. Africa, England, etc. They will be happy to make it a reality.
Sri Lankans by birth and Australians by citizenship the likes of Harry Solomans, Chairman of Kings Grove Sports Centre, ( his roots are in Ruhuna), Dilip Kumar, Chairman of Several Holden Car yards, David Cruse, Managing Director Knox Tavern in Victoria, etc., are people with great influence and can do a lot for Sri Lanka's development on and off the field to deserving sports projects. Some of our talented sportsman have benefited from their soothing hands.
Most of the Sri Lankans living abroad will be too happy to join this humanitarian act to assist the needy past sportsmen than waiting to make it a SLC reality. It is far better to offer a single flower, than a bouquet of red roses when they are gone!