Forty one year old Chaminda Wickremaratne will try out his determination and perseverance when he ventures out to establish a new Guinness World Record on August 13. The legless trishaw driver will be paddling his wheelchair from Peliyagoda to Anuradhapura in a targeted time of ten hours. This will be a new world record if achieved as the Guinness Book of World Records does not have any entries in this event.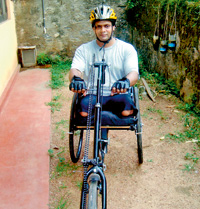 Chaminda Wickremaratne on his 3-wheeled paddle cycle
Wickremaratne will begin at 5 a.m. in the company of two officials from the Ministry of Sports and a doctor with an ambulance in case of any disaster. He has obtained permission from the Ministry of Sports to attempt at this unique record.
Wickremaratne who lives in Makola had both his leg amputated from below the knees due to a rare germ infection. This germ infects only one person in a million and now he gets about on a wheelchair.
Somehow he has got himself accustomed to driving a trishaw that has helped him to earn his livelihood. He has to support his son who is 13 years old and a daughter who is just eleven months old.
He has been training for this attempt for one month now. This genuine attempt by the poor man needs help from well wishers and generous sponsors. He will be riding the three wheeled paddle cycle as shown in the picture. His arms will have to be strong and will need a lot of nourishment. (TBR)