Two gone and two to go and Andrew Strauss, like his illustrious namesake and music composer Johann Strauss, has the much hyped and touted Indians, waltzing to his tune. Forget for a moment the startling fact that the England captain and his deputy's visits to the crease have yet to make a substandard contribution. The transparent efficiency and all round strength of this English side has been able to make light of such trivialities and yet post victories.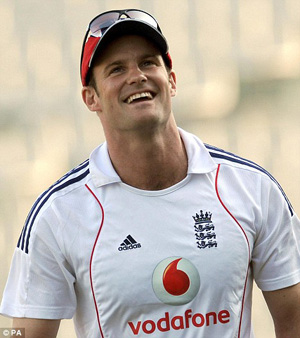 Andrew Strauss
Consider that in their second innings at Lords, salvation were wobbling on 62 for 5.Then came salvation in the form of Prior (103 n.o) and Broad (74 n.o). England's next innings, the first one at Trent Bridge, was another shambles. But they totaled 221, conceded a first innings lead of 67 and went on to win by a huge margin of 319,inflicting on the table-toppers, in the process, their sixth worst loss in tests.
The sign of a good and successful side is that they come back in hopeless situations and England have done just that. To give another example, at Trent Bridge, India on 267 for 4 and enjoying a lead of 46 were on course for a big first innings lead. Yet, the now sensational Stuart Broad conjured up a six wicket burst to bowl the Indians out for 288. Cometh the hour, cometh the man goes the old saying and England have certainly produced 'the men' in Pietersen, Bell, Broad, Anderson, Prior and Bresnan.
The composition of the two teams cannot be more similar. Six batsmen, a batsman/keeper at seven, three pacies and a spinner complete the line ups. Yet Dhoni's efforts, especially in front of the stumps, have been tawdry. Is it the general poor performances of his team are dragging him down?
Harbhajan has not got the wickets expected, while Swann has been played so easily by Indian batsmen weaned on spin. What stands out like a sore thumb is the comparison between numbers 7, 8 and 9. Prior has made plenty of runs and has made them aggressively. Bresnan at eight and Broad at nine have made huge contributions. What can you say about the batting output in India's seven, eight and nine?
Given a bit of cloud cover, India's seamers have made England's early batsmen struggle. Zaheer in his brief spell at Lords, Praveen Kumar and, more so, Sreesanth at Trent Bridge exposed the vulnerability against the moving ball. England's pacemen have functioned well as a unit and, with or without cloud colour, have been able to take twenty wickets. Come to think of it, England is on the horns of a selection dilemma. Bresnan or Tremlett? Common sense would suggest Bresnan at Edgbaston and Tremlett for the Oval, given the bounce usually obtained from the South London venue.
Bruised, battered, stumbling from woe to woe, the number one team is in a sorry state. India has been unfortunate to lose the services of Zaheer Khan, the one bowler of class in their attack. Praveen Kumar has picked up wickets and cannot be faulted for lack of effort. Yet his military medium at best lacks Zaheer's angle. Sreesanth started off well but couldn't sustain the momentum, and was played easily thereafter.
Dravid, with his two brilliant hundreds, must have gone up a few notches in the minds of the admiring public, if that were possible. The real Tendulkar was seen at his fourth attempt. His 56 at Trent Bridge was a thing of beauty. England's bowlers have found a way to curb the present day Little Master, but one wonders for how long?
Anderson and his hunting pack used an old tactic do dismantle the Indian batting – bounce at pace. The largely untried Mukund, the more experienced Yuvraj and Raina, were all done in by the bounce. In Raina's case, he didn't hold up a limp bat but did it bravely trying to match fire with fire.
In retrospect, some people pose the question whither India really deserved their number one ranking as most of their victories came on the slow, low tracks at home. Australia and South Africa were not beaten on their home tracks and that is the bench-mark.
To be sure, India will provide for stiffer opposition at Edgbaston assuming that Sehwag, Gambhir and Zaheer take the field. However India's present, sorry plight reignites the country or IPL debate. Didn't Sehwag jeopardize his chances of turning out at Lords and Trent Bridge by his continued involvement in the money spinner? Further, with a few exceptions, India's players have had to go through the whole gamut – IPL, the West India tour and now, the England one. Mind and body cry out for the rest, but the bank balance demands more. India's experience should be an eye opener for the other Boards of Control.