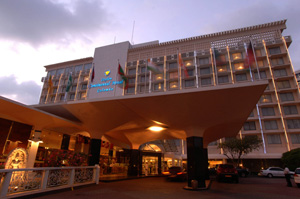 Ceylon Continental Hotel
Hayleys PLC declared its intention to get into 'big time' leisure when the company bought a 51 % stake in Ceylon Continental Hotel's owning company, Hotel Services PLC's on Friday for Rs 1.9 billion.
Colombo's first 5-star hotel which has changed hands in recent years saw Nahil Wijesuriya, the Chairman at Hotel Services shedding 51% out of his total 75% to Hayleys. Mr. Wijesuriya said that he doesn't want to sell the balance stake he owns. "We are left with 24% and we see a huge upside potential with the involvement of the Hayleys Group in Continental," he told the Business Times.
Industry sources said that Hayleys' decision to set up Hayleys Leisure Holdings (Pvt) Ltd (exclusively reported in the Business Times last week) as its sixth sector confirms its bid to expand the reach into leisure and become the third (biggest) player in the market. "This is the leisure arm of Hayleys PLC and it will manage Continental," an industry source said, adding that Hayleys major shareholder, businessman Dhammika Perera is behind this decision to buy Continental.
A Hayleys official said that the company wants to expand in the leisure industry with a strong focus on hotels, inbound tourism and aviation. He said that Hayleys is scouting for properties around the island in a bid to capitalize on the tourism boom, and the Continental purchase is its first, independent hotel stake. Hayleys, together with Jetwing, own six hotels –Tropical Villas, Jetwing Beach, Hunas Falls, Lighthouse and they own a land at Nilaveli as well.